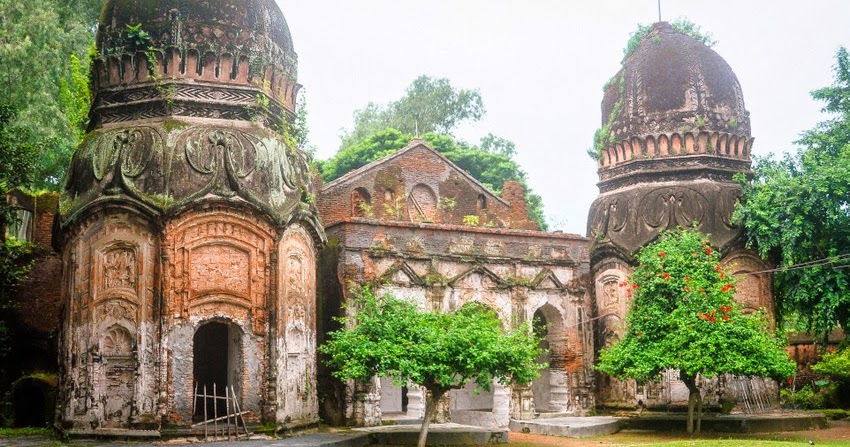 ---
KARACHI: Few people know that the grave of Major Muhammad Akram – who laid down his life on Hilli's front during 1971 war with India and was later awarded Nishan-e-Haider – is located in a small garden in Naogaon, which was then a sub-division of the Rajshahi district of former East Pakistan.

This garden, called 'Samina Park', was named after the daughter of Major Qureshi, the wing commander of Naogaon Cantonment. Samina, who died at a young age, was also laid to rest there.




This Naogaon Cantonment was set up during the 50s when the police failed to curb smuggling from India and GOC Major General Umrao Khan deployed army there to guard the border. It was also the headquarters of paramilitary East Pakistan Rifles (EPR).

How Mukti Bahini 'cleansed' Santahar of non-Bengalis

This cantonment was based in Balihar Royal Palace, a huge mansion of a Hindu Raja, who ruled the area during the 18th century and is said to visit Murshidabad, the former capital of Bengal, every year along with his entourage to pay homage and Khiraj [tax] to Nawab Siraj-ud Daulah.

The story of this cantonment during the turbulent times prior to the fall of Dhaka is part of the forgotten pages of our history and has probably never been reported.

When Mukti Bahini on March 26, 1971 started targeting non-Bengalis in Santahar, located just three miles away from Naogaon, the besieged people of the city were constantly turning their heads in the direction of cantonment.




They were wondering why the Pakistan Army was not coming for their rescue, not knowing that the architects of the massacre had already 'conquered' the cantonment before besieging their city.

It was a Bengali soldier, Major Chaudhry, who had joined the rebels and apparently led the assault that resulted in the capture of Pakistani soldiers, mostly belonging to West Pakistan.

According to eyewitnesses, these captives were kept in the 'Ganja House', a huge godown that was set up during the British era near the city's Mukti Cinema for storage of cannabis, a produce for which Naogoan was known across Bengal.




The captives, who were probably in dozens, included Naogaon's young SDO, his wife and their new born baby. On April 16, a day before the final massacre of non-Bengalis is Santahar, these prisoners were brought in trucks to Tulsi Ganga, a neighbourhood located half a mile away from Naogoan.

Tulsi Ganga was actually the gateway to Naogaon. You actually had to cross Tulsi Ganga's bridge made over a narrow tributary of Ganga River to enter Naogaon. On April 16, 1971 this small village was to become the site of a grisly massacre of Pakistan Army soldiers and their family members.




Muhammad Anwar, who was a bank manager there, narrates how these men – blindfolded and handcuffed – were taken out of the trucks one by one at around 1pm.

"There was a newly-made ditch at some distance from the road. The prisoners were taken to that place where their blindfolds were removed but their hands remained cuffed," he adds.

According to Anwar and other witnesses, Major Chaudhry had summoned a notorious hooligan of Santahar, Azhar alias Azizer, who was waiting for these captives along with his gang of killers.

He says a big crowd of Bengali spectators had come from far and wide to watch the killing, which was started with the SDO's baby who was in the mother's arms.

"Azizer snatched the child from the mother's grip and threw him up in the air only to receive his body on his spear. This was followed by the slaughter of other people.




"The people were brought to the ditch one by one, were thrown on the ground and slaughtered like cattle. Soon the ditch was brimming with blood," he says.

I had the occasion later to visit the site of the massacre. There was a thick layer of blood over that ditch despite passage of some weeks – a layer so thick that it was difficult for the passers-by to ignore it.

However, there was at least one young girl among the captives that was not killed and was given to Azizer probably as a bounty. In the evening of April 16, I was among many people who had seen Azizer, drenched in blood, dragging the unfortunate girl along through Santahar.

According to Munawar, the betraying soldier Major Chaudhy was soon killed in an accident when he was rushing towards India after arrival of the Pakistan Army in the last days of April.

Muhammad Iqbal Dastagir, another survivor of the massacre, says Azizer was also killed a few months later in Bogra by a troop of the East Pakistan Civil Armed Force.

However, it gives me little relief that perpetrators of the massacre met their end soon after the crime. The remembrance of the martyrs and the unfortunate girl still sadden me.

PHOTO COURTESY: http://mynaogaon.blogspot.com 
COMMENTS (2)
Comments are moderated and generally will be posted if they are on-topic and not abusive.
For more information, please see our Comments FAQ