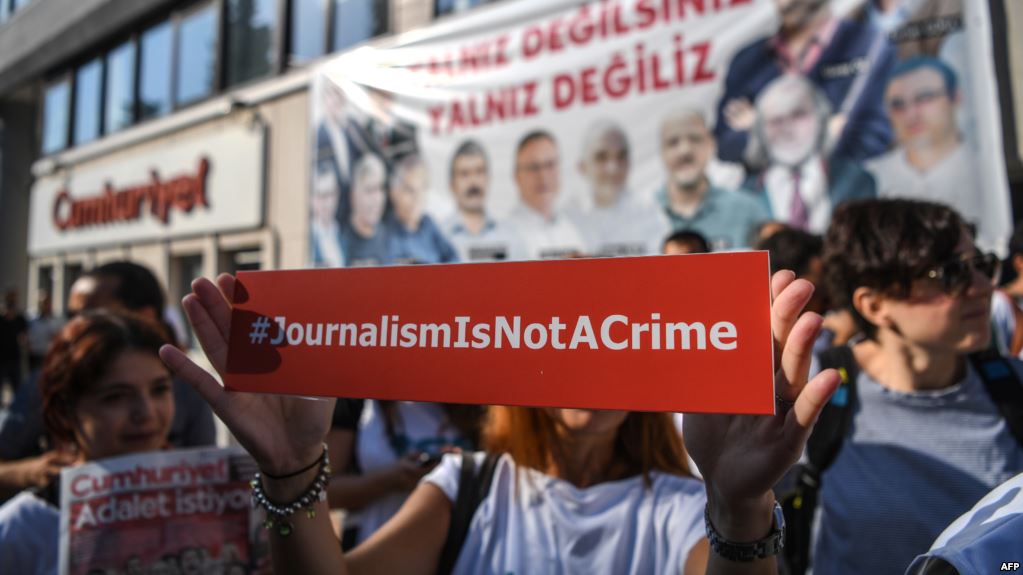 ---
KARACHI: Two Pakistanis are among the 262 journalists behind bars around the world in relation to their work as of December 1, 2017, a new report by the Committee to Protect Journalists (CPJ) has found.

The number is an increase from last year's historic high of 259.


⚡️ "2017 is our worst year on record: 262 journalists jailed for their work"#PressFreedomhttps://t.co/VvKHiCcYgs

— Committee to Protect Journalists (@pressfreedom) December 13, 2017


According to research conducted by CPJ's editorial director, Elana Beiser, Turkey is again the worst offender, with 73 journalists imprisoned for their work, as the country continues its crackdown on press freedom.




"China and Egypt again take the second and third spot, with 41 and 20 cases respectively. The worst three jailers are responsible for jailing 134, or 51%, of the total," the press release said.


The 10 worst jailers of journalists in 2017:
Turkey 73
China 41
Egypt 20
Eritrea 15
Vietnam 10
Azerbaijan 10
Uganda 8
Syria 7
Saudi Arabia 7
Bahrain 6 pic.twitter.com/wycwwwWVCi

— Committee to Protect Journalists (@pressfreedom) December 13, 2017


The CPJ's list states that 194 journalists, or 74%, are imprisoned on anti-state charges, many of them under broad or vague terror laws.

Pakistan also features on the list, with journalists Daulat Jan Mathal, and Hafiz Husnain Raza currently incarcerated.

Mathal is the editor-in-chief and publisher of the independent Daily Bang-e-Sahar and Baang newspapers, as well as the Broshal Times news website. He was arrested in October last year for supporting national autonomy for Gilgit-Baltistan in his publications.

My life changed after Malala was attacked: Hamid Mir

"Late in 2017, he was in state custody at the Gilgit district jail. No trial date had been set, and the journalist's petition for bail had not been heard," the committee states on its website.

Similarly, Raza was arrested by the Punjab Police on April 25, 2016, for "disturbing public peace and tranquility and instigating people to terrorism under Section 7 of Pakistan's Anti-Terror Act".

A correspondent for Urdu daily Nawa-i-Waqt, Raza reported on land rights disputes in Okara for decades between the Anjuman Muzareen Punjab, a tenants' association in the province, and the military. He is under custody in Central Jail Sahiwal, according to the CPJ.

Beiser told The Express Tribune that the cases of Raza and Mathal illustrate the challenges and dangers faced by Pakistani journalists when they report on sensitive issues, especially in rural areas.

"Pakistan should uphold the commitments it has made to press freedom, not imprison journalists because they report on sensitive topics," she said in an email.

Pakistan rights group warns of shrinking press freedom in Balochistan

While Pakistan has a vibrant and vocal press, the legal and policy environment has changed drastically for media professionals over the last few years. The government, bureaucracy and law enforcement agencies are often accused of using pressure tactics to silence dissenting voices in the press.

The country passed its cyber crime bill in 2016, known as the Pakistan Electronic Crimes Act (PECA), which has come under criticism from media professionals as well as advocacy groups for its vague language that, they say, is open to misinterpretation and abuse.

Lawyer Nighat Dad, who also runs the Digital Rights Foundation, says PECA  has given law-enforcement agencies broad powers in terms of both prosecuting journalists and subjecting them to investigation.

"In the past 1.5 years that it (PECA) has been in place, journalists have been served notices to appear before the FIA, asked to submit their devices for examinations, issued warnings against anti-state activities, and, in certain cases, detained," Dad told The Express Tribune.

The prison census by CPJ accounts only for journalists in government custody and does not include those who have disappeared or are held captive by non-state groups.