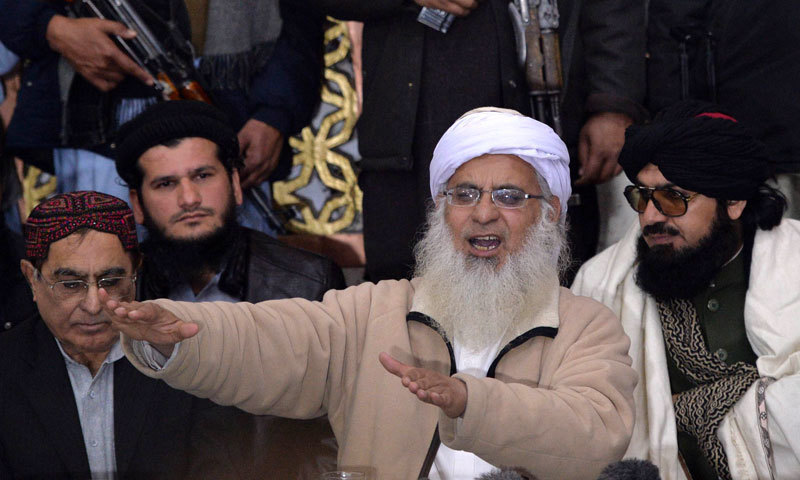 ---
ISLAMABAD: Former Lal Masjid cleric Maulana Abdul Aziz has called for action against a "social media campaign to insult some of the holy figures of Islam".

Speaking at a news conference at a seminary in Islamabad, the cleric showed to media persons the screenshots of several controversial and outrageous social media posts. "Authorities aren't doing enough to arrest the culprits."

Maulana Aziz said that he had also petitioned the Islamabad High Court against the issue but the authorities concerned did nothing. "The government is helpless. They would have sprung into action if such outrageous caricatures had been made of the prime minister, the army chief or the chief justice," he said.




The cleric also demanded that the government snap diplomatic relations with the United States after President Trump's decision to recognize Jerusalem as Israel's capital.

He also questioned "extra-judicial killings and enforced disappearances" in the country. "Several people associated with Lal Masjid and [adjacent seminary] Jamia Hafsa have 'disappeared'," he said.

Maulana Aziz also criticised what he called vulgar content in the mainstream and social media and sought strict monitoring and guidelines for the media.

"[After seeing all this on the media] our blood boils and we want to go out and turn this system upside down," said Aziz, as he addressed the media in a library named after slain al Qaeda kingpin Osama bin Laden.
COMMENTS
Comments are moderated and generally will be posted if they are on-topic and not abusive.
For more information, please see our Comments FAQ