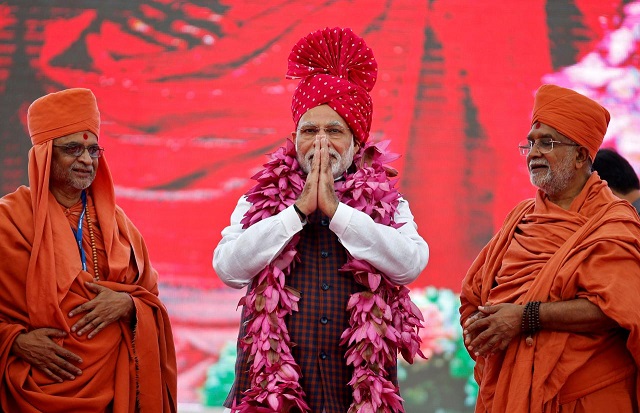 ---
India's main opposition party has termed as 'baseless' Prime Minister Narendera Modi's allegation that its top leaders recently met Pakistan's high commissioner and an ex-minister in an attempt to influence the upcoming assembly elections in Gujarat.

"Holding the country's topmost post, Modiji is making baseless allegations. Modiji is worried, dejected, angry. Such a statement has no truth or fact, and is based on lies. Such a behaviour is unbecoming of a prime minister," NDTV quoted Congress spokesperson Randeep Surjewala as saying.

The spokesperson added that the Indian prime minister made the baseless accusations because he was worried about the ruling Bharatiya Janata Party's (BJP) impending defeat in Gujarat assembly polls.

Do not drag us into your electoral debate, Pakistan tells India

In his recent address to an election rally in Gujarat, Modi alleged that India's former prime minister Manmohan Singh and suspended Congress leader Mani Shankar Aiyar had met the Pakistani high commissioner and an ex-Pakistani foreign minister at Aiyar's residence recently.

Modi, on December 9, also said that Aiyar had spoken in Pakistan about "a supari [contract] to get Modi out of the way" to end the deadlock between the two neighbouring countries.

The foreign office has rejected the accusations as "utterly baseless and irresponsible". In a tweet, FO spokesperson Dr Muhammad Faisal said India should stop dragging Pakistan into its electoral debate.

"The entire country knows who loves Pakistan and who has been giving protection to the separatists," Surjewala alleged, questioning Modi's 'unplanned' visit to attend the wedding of former prime minister Nawaz Sharif's granddaughter in Lahore.