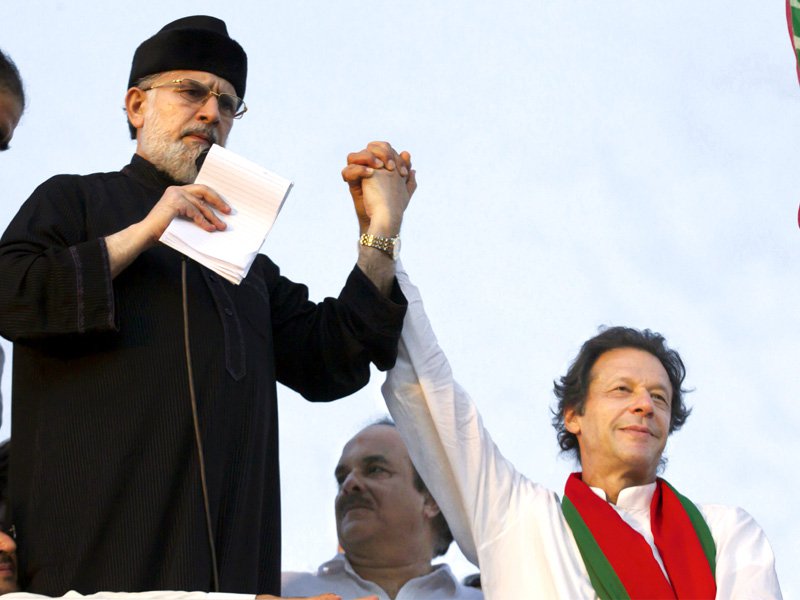 ---
ISLAMABAD: Hours before former president Asif Ali Zardari met Pakistan Awami Tehreek (PAT) chief Dr Tahirul Qadri in Lahore on Thursday, Pakistan Tehreek-e-Insaf (PTI) Chairman Imran Khan also assured him of his party's all-out support for his demand to bring to justice those responsible for the 2014 Model Town carnage.

During a phone call, Khan assured Qadri that PTI would join PAT if it decided to launch protest against government's failure to nab the culprits. Both leaders decided to chalk out a joint strategy in this regard. "Senior leaders of both parties will soon meet to work out a joint strategy," said a statement issued by PTI.

Talking to media outside an anti-terrorism court earlier, Khan alleged that Punjab Chief Minister Shehbaz Sharif and Law Minister Rana Sanaullah were behind the Model Town incident. "Both of them should be put behind bars immediately as Justice Baqir Najafi's report exposed all their lies about the incident," he said.

He said he wanted to assure Qadri that PTI would join him whenever he announced protest against Punjab government over the case.

"I will request all Pakistanis to come forward and protest against those killings to give a clear message to the rulers in Punjab that people will no longer tolerate killing of innocent citizens," the PTI chief said. He said PTI would join PAT's protest not for political gains but to show solidarity with the citizens who fell victim to Punjab government's brutality.

"It is necessary to bring to justice the criminals who under a well thought out plan not only terrorised but killed peaceful protesters in broad daylight," Khan added.

The PTI chief said the Punjab government had a habit of killing innocent people and then lodging cases of terrorism against them. "The Punjab rulers, not the PAT activists, are the real terrorists," he said.

He said the Najafi commission report had exposed Shehbaz's claim that he had ordered police to disengage during the clash. Khan said the report had confirmed that Sanaullah chaired a meeting where a decision was taken to use force against unarmed PAT activists.