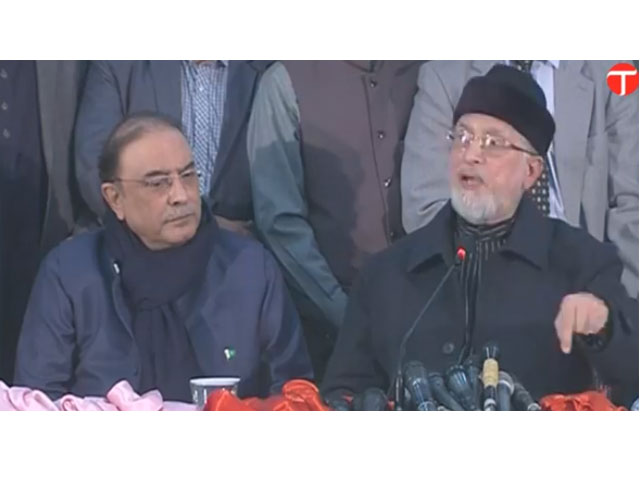 ---
Backing Pakistan Awami Tehreek's (PAT) demand for resignation of Punjab Chief Minister Shehbaz Sharif, former president Asif Ali Zardari has said that there is no possibility of a third force coming into power because the Nawaz Sharif government left the country with $52 billion debt and only a political government can resolve the lingering crisis.

The PPP co-chairman visited the PAT head office on Thursday to discuss the political situation against the backdrop of the Justice Baqar Najafi commission report about the 2014 Model Town clash between police and protesters that claimed several lives.

Talking to media persons after their meeting, PAT chief Dr Tahirul Qadri and Zardari said they had agreed to start a movement against the Pakistan Muslim League-Nawaz (PML-N) government in Punjab if the chief minister did not step down.

Qadri garnered support for his planned protest from both the major opposition parties during the day as Pakistan Tehreek-e-Insaf (PTI) chief Imran Khan also held out an assurance to him in this regard during a phone call.

Accusing Shehbaz of behaving like a Mughal emperor, Zardari said, "He will have to tender his resignation, otherwise I will stand with Dr Sahab on the container." Qadri had asked his supporters on Wednesday to prepare the container used by him in his previous sit-ins for a new protest movement against the Punjab government.

Hyderabad rally: Imran calls Zardari the 'biggest disease plaguing Sindh'

"Enough is enough – we are with Dr Sahab as N-League is not serving democracy but acting against democratic norms," Zardari said. "We will support PAT on all fronts for the survival of the Constitution as we cannot invite the third force to come," he added.

Paying tribute to the Model Town victims, he said these martyrs and injured had not received justice as yet. "We will not let the sacrifices of Model Town go in vain," he said.

Qadri said the Najafi report had pinpointed the culprits in the incident. "Its conclusion revealed that law enforcement agencies were not there to remove the barriers, but to launch a crackdown against innocent people," he said.

He claimed that the chief minister stood condemned after the report and such a man did not deserve to rule the country's largest province. "We are willing to do all that is necessary, within the ambit of the law and that our Constitution allows, to ensure that our demands are met," said Qadri.

Talking about the United States move to open its embassy in Jerusalem, Zardari warned that it would open doors to terrorism. "The whole world is condemning America's announcement and it should reconsider the decision."

PPP leaders Khursheed Shah, Qamar Zaman Kaira, Manzoor Wattoo and Qayyum Somoro accompanied Zardari during his visit.
COMMENTS (6)
Comments are moderated and generally will be posted if they are on-topic and not abusive.
For more information, please see our Comments FAQ