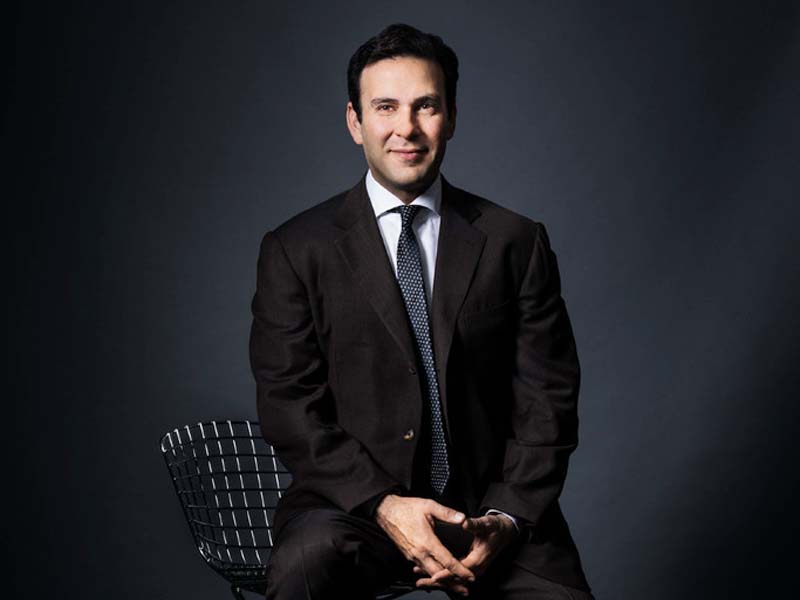 ---
KARACHI: Not a lot of success stories exist in Pakistan. Even if they do, they have a tendency to get lost in the shadow of bigger, sometimes pressing, and very often, scandalous matters.

But whenever the country does find a success story that has even an ounce of origin in Pakistan, there is a certain zeal and enthusiasm about owning it.

Zia Chishti, the founder of two billion-dollar companies, may not have been born in the country, but he was certainly raised by it.

Born to American-Pakistani parents, Zia returned to his mother's native land after the death of his father. It helped him that his mother was an accomplished woman closely linked to Punjab's educational system. Perhaps, this is why she realised and then motivated Zia to move back to the US and complete his education even as her son remained driven to pursue business right out of high school in Pakistan.

"I didn't want to come back to the US," says Zia, CEO and chairman of the board at Afiniti, the company that recently closed its Series-D fundraising round earlier this year at a $1.6-billion private valuation and is now up for an initial public offering (IPO).

17-year-old Pakistani student's physics paper surprises older scientist

"My initial intuition was that I would become a business person right out of high school in Pakistan. [But] she was quite persuaded that I needed to go back to the US and get a good college education. So in 1988 I returned and started college in New York City."

It added to Zia's skill-set that he attended the finest schools, receiving a BA degree from Columbia University and his MBA from Stanford. Landing a job at Morgan Stanley, in the mergers and acquisitions side, further upped the ante on what was to follow.


Zia Chishti was in Pakistan along with investors, clients and company executives on a skiing trip at the Karakoram mountains earlier this year. PHOTO: AFINITI

The first unicorn

He envisioned the idea of Align Technology, the first of his eventual unicorns, out of his dorm room, he said, motivated by the pain he suffered through a course of orthodontic treatment in his early twenties.

"I felt there had to be a better way to accomplish the same outcome. The company was focused on the dental space and we had the technology that would allow a whole full art orthodontic treatment without braces. Since I also had an engineering background, we would instead use air-generated plastic appliances and, as it turned out, it was extremely successful."

Align, the medical device technology company that he led from startup to over a $1 billion valuation on the NASDAQ stock market, was eventually steered to a valuation of over $18 billion, but without Zia who left it in the summer of 2002 - a significant year in many aspects for the business tycoon who was only beginning his journey.

A year earlier, People, an American magazine published by Time Inc, listed him among the top 50 bachelors in the US. Need context? He featured in the list alongside actors Ben Affleck and Matt Damon, as well as golfer Tiger Woods.

They say nothing moves up in a straight line, so would 2001 be the start of a slide that would roll over Zia's success?

"Out of our 1,000-plus employees, we had more than 700 in my home town (Lahore)," said Zia as he embarked upon the reasons for his departure. "In early 2001, the share price (of Align) was around $11-12. After September 11, it became a dollar and 12 cents."

With around 90% loss in market value, US equity investors clearly did not back Align Technology that now trades at over $220.

"It collapsed on the insight of the US equity market that there was substantial degree of risk to the continuity of our operations in Pakistan. I was quite persuaded that there was no increase in systemic risk in our Pakistani operations but rather this was a failure of the US equity markets - they failed to discern between Afghanistan, where there was greater risk, and Pakistan.

Pakistani team bag silver medal at iGEM 2017

"I took the view that we should maintain our operations where we were very successful and were generating strong long- and short-term returns. Others were of the view that we need to exit. The way the settlement occurred was that on my own initiative I bought the Pakistani operations, which consisted of around 750 people.

"This was the first acquisition I made under my spin-off company that's called TRG. I left Align at that point to found a new business."




TRG Pakistan and operations in Pakistan

The mention of TRG sparked another conversation - what does The Resource Group do. For long, analysts in Pakistan have failed to explain its primary function and that is probably because, unlike many other listed companies, it is not a manufacturing entity that sells a tangible product.

Yet, the company remains among the volume leaders at the Pakistan Stock Exchange (PSX) and recently moved into a larger building at one of the most expensive office accommodations in the country's largest city.

Its nine-month loss in the period between June 2016 and March 2017 was Rs3.3 billion, translating to loss per share of Rs2.41, up 32% from the same period of the previous year. But when it comes to TRG Pakistan, its financial statements don't explain much.




To understand its business, Zia said to call it an equity vehicle.

"It invests in business process outsourcing (BPO) and related technology companies. It is a capital provider to the BPO sector and along the way it's made a series of acquisitions, divestments and minority investments in technology businesses."

So why does a company that is mostly not well understood trades so much on the PSX.

"What has changed is the perception in the Pakistani equity markets and I can't really explain why there has been a shift all of a sudden but structurally, the business has been the same essentially since inception."

To make it simpler, understand this; TRG Pakistan has a 57% stake in TRG International - the offshore company - that in turn owns stakes in most of the subsidiaries including Zia's next big project that is up for the IPO.

TRG Pakistan, on the other hand, will continue to remain in the business of selling stakes in portfolio companies as it looks to make money for investors, while also seeking out fresh avenues for investments.

It will have a significant holding in Afiniti - the latest billion-dollar company founded by Zia - through TRG International and investors are keenly awaiting the IPO slated for next year.

What does Afiniti do?

Afiniti, the artificial intelligence company, is slated for its IPO in the mid of 2018, according to market talk.

It was valued at around $1.6 billion, and is meant to change the way companies interact with their consumers. In Zia's words, it will help find behavioural patterns that are more effective in pairing calling customers with suitable agents of a company.

While its potential market in Pakistan is likely to remain small - PTCL is its only client so far - Zia says the application of technology will vary according to the enterprise's use of its contact centre environment.

"Out of Afiniti's global revenue, less than 1% comes from Pakistan so I would say that Pakistan is not on our top 10 countries' list in terms of creating revenue, but it is certainly a matter of pride for us that we have at least one client here."

Pakistan's economy and entrepreneurial success

While Zia's companies have always had operations in Pakistan, including Afiniti that has a majority of its employees in Karachi, the business tycoon does feel the paradigm for commercial success in the country has remained simple.

"Look at the structure of the economy today, it is massively overregulated and massively protected so entrepreneurs within the country really don't take a risk and don't face competitiveness that's associated with global markets.

"That is really why you don't see significant entrepreneurial success coming out of Pakistan. What you have is a tradition of entrepreneurship and risk taking which is really very confined to the domestic market. We have not bred the skills, the talent and the enthusiasm that's necessary to perform on a global stage. We have a successful paradigm within the country that doesn't expose our entrepreneurial class to the rigors of the global market."

His point is well-taken. Pakistan's GDP per capita is among the lowest in the world, a tad over Kenya's, and bracketed in the lower middle-income countries, according to the World Bank.

For long, it has been fighting terrorism and geo-political risks along with crippling power outages. Many industries have been forced out of production and foreign investors are still turned away by incessant security challenges as well as a lack of purchasing power.

But Zia, like most optimistic Pakistanis, feels there is hope.

Pakistani delegation finally makes it to India for entrepreneurship summit

"Notwithstanding my criticism for the lack of effective entrepreneurship within Pakistan, the economy is doing remarkably well and I think increasingly perceived as such. GDP growth of the country per capita puts Pakistan easily in the top ten countries in global GDP growth. Industrial growth is well over 10% as well.

"What we are seeing now is the response of Pakistan to years of underinvestment in the domestic economic marketplace.

"Internationally, Pakistan's trade has actually declined, but domestically Pakistan is building and the effects of that domestic boom are clear. In that sense, the story out of Pakistan is very positive."

Despite Zia's positive tone, it remains difficult to pursue entrepreneurship in a country where people and companies, including banks and major lenders, remain risk-averse. Only 1.5% Pakistanis borrowed from a financial institution in 2014 as opposed to 49.8% people who borrowed from friends, family or any other informal lender, according to financial inclusion data of the World Bank.

With lack of funding at your disposal, Zia says perseverance is the key. "True entrepreneurial success does not happen overnight, that's very rare and very lucky. True entrepreneurial success takes years, if not decades, before you can change the world with your own ideas. Perseverance is a critical component."

Published in The Express Tribune, December 7th, 2017.

Like Business on Facebook, follow @TribuneBiz on Twitter to stay informed and join in the conversation.
COMMENTS (5)
Comments are moderated and generally will be posted if they are on-topic and not abusive.
For more information, please see our Comments FAQ