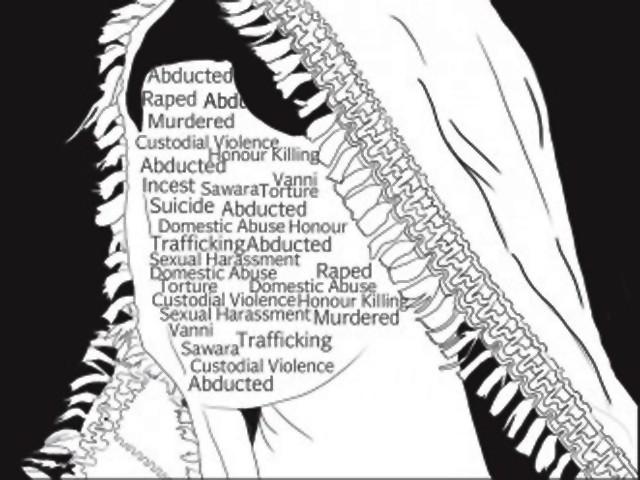 ---
KARACHI: Lack of female journalists in the electronic and print media is a major factor causing a blackout of women-centric issues in the media and thereby rendering the media unable to challenge the prevailing misogynistic mindset of Pakistani society.

A panel of journalists agreed on the media's failure in giving due coverage to women-related issues at a session on the final day of the Women of the World (WoW) Festival at the Alliance Française de Karachi on Sunday. The journalists engaged in the discussion included Muna Khan, Mahim Maher, Zarrar Khuhro and Razeshta Sethna.

"I do not feel as if the media succeeded in helping women overcome challenges in society," Maher remarked. She bemoaned the fact that very few female journalists were working in major newspapers and TV channels.

According to Maher, the situation in local newspapers and TV channels was even more dismal. She cited a research that analysed 21,949 news stories published in six local newspapers of Khyber-Pakhtunkhwa and Balochistan in three months. It was found that only 74 stories were carried through a female source. She lamented that in comparison to male reporters, the names of female reporters being printed in leading English newspapers were almost invisible.

'The burden to change society is on women'

"Women are never sources of information," Maher decried, adding that women are the centre of news only when they die or are tortured and threatened.

Disapproving of the modus operandi of electronic media, the speakers pointed out that very often it does not bother to bring up real issues. In the race to 'break' news, news bureaus even do not bother to verify information before airing it for the public. Unlike print media, there is no editor in electronic media who could judge any news' worth, Khuhro said.

The panelists also complained about the trend of disclosing names of women who were raped or killed for 'honour'. Commenting at the end of the session, activist Mukhtaran Mai said the media is ever willing to show photos of rape survivors but seldom dares to reveal the faces of the perpetrators.

It was also brought up during the discourse that instead of correcting irrational prejudices and stereotypes, the media often serves as an enforcer of regressive mindsets. Citing the allegations of Ayesha Gulalai, Maher commented that no news channel bothered to invite a social psychologist to discuss the issue of sexual harassment. Many analysts stuck to the point that Gulalali was lying because she should not have waited four years to speak up. No one dared to raise the point why women opt to remain silent after facing harassment, Maher said. "Human behaviour is never discussed in the electronic media."

Toxic masculinity unpacked at WOW Festival

Adding to the point, Khuhro remarked, "We do not shape public opinion; public opinion shapes us".

Media is controlled by men and they steer it as per their patriarchal mindset, the speakers said. We have to deal with situations when male editors object to the word 'breast cancer' and want to change it to just 'cancer' even if the news story is exclusively about breast cancer, Khan said.

Maher also spoke on the dilemma faced by an editor in deciding whether to carry a news item or to hold it. In Khyber-Pakhtunkhwa, attacks on polio workers decreased when the media stopped reporting about anti-polio campaigns, she said. "We never know who is going to read our news," she said.
COMMENTS
Comments are moderated and generally will be posted if they are on-topic and not abusive.
For more information, please see our Comments FAQ