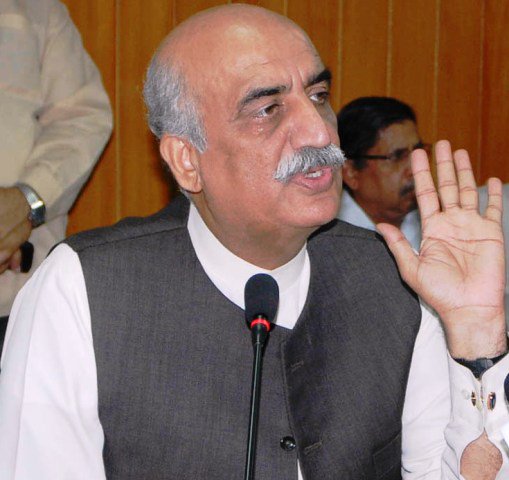 ---
Opposition Leader in the National Assembly Syed Khursheed Shah said on Sunday that despite political differences with the ruling Pakistan Muslim League-Nawaz (PML-N), the Pakistan Peoples Party (PPP) will not compromise on the democratic system in the country.

Addressing a press conference in Islamabad, he said the party wanted to strengthen democracy and added that would be done if parliament completes its full five-year tenure, Express News reported.

"The writ of the state is being undermined because of clashes between institutions… which is very unfortunate. However, Peoples Party will not compromise on democracy despite having political differences [with the ruling party]," the opposition leader was quoted as saying.

PPP 'to support PML-N' on legislative matters

Shah said the PPP was embarking on a 'new journey' with a political rally at the Parade Ground in Islamabad on December 5, adding a large number of PPP workers will flock the federal capital for the rally.

The PPP and its leadership, including Chairman Bilawal Bhutto Zardari, severely criticised the ruling party for its failure to handle the recently-concluded sit-in by a religious party at the Faizabad Interchange.

Shah repeatedly expressed concerns over how the protest had damaged the country's image globally. He said the party stood behind democracy and parliament, adding the PPP always worked to strengthen parliament as it cared about "Pakistan's image, autonomy and integrity".
COMMENTS
Comments are moderated and generally will be posted if they are on-topic and not abusive.
For more information, please see our Comments FAQ