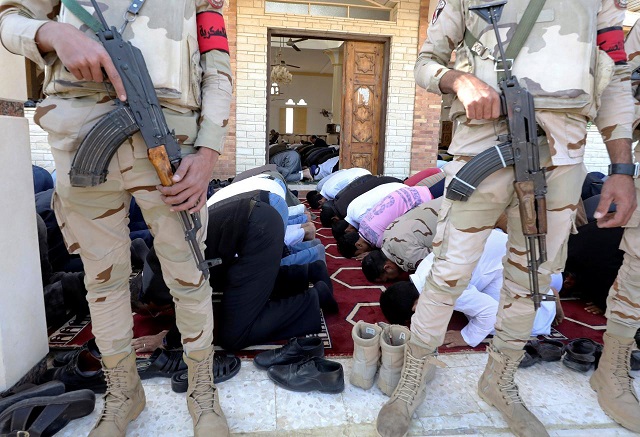 ---
AL RAWDAH: People wounded in an attack on a mosque in Egypt's North Sinai region that killed more than 230 returned to the site to pray on Friday and a top Muslim leader urged the army to destroy the 'cancer' of insurgency.

One worshipper said a whole village had been 'exterminated' in last Friday's attack on the Al Rawdah mosque, near the town of Bir al-Abed - the deadliest such incident in Egypt's modern history. Some of the more than 100 wounded made their way past tight security to the mosque.

They prayed and recounted their ordeal at the hands of suspected militants when a bomb exploded and dozens of gunmen opened fire. The attack targeted worshippers indiscriminately, said wounded school teacher Magdy Rezk.

Egypt's Sisi tells army to restore Sinai security in 3 months

"It included everyone inside, those outside and those coming in from the street. Even those trying to escape from the mosque were not spared," he said. Another man who gave only his first name, Ismail, said he lost his father, brother and several uncles and cousins.

"I was sitting outside the mosque and just started running," he said. "They (militants) were approaching from all sides ... it was unbelievable." "A whole village was exterminated," said another villager.

The army had beefed up security and set up checkpoints leading to the village and the mosque on Friday. At Al Rawdah, a soldier stood inside its minaret keeping watch.

Islamic State

No group has claimed the attack, but the Islamic State's Sinai branch, which has for years battled Egyptian security forces and more recently attacked churches, is a prime suspect. Egyptian President Abdel Fattah al-Sisi has vowed to step up efforts against insurgents in Sinai and ordered his military chief to use all force necessary to secure North Sinai in the next three months.

Injured Egypt imam vows to return to attacked mosque and finish sermon

The Grand Imam of Cairo's Al-Azhar mosque, Sheikh Ahmed al-Tayeb, urged the armed forces to fight and destroy theinsurgency in a televised speech delivered at the mosque. "The judgment of God (has) to be implemented upon them by fighting them," he said, describing the militants as 'cancerous'.

"Egypt, with its security (forces)... is capable of getting through this difficult stage and destroying this terrorism that is foreign to our land," he said. Egypt's deadliest militant attack comes just months before a presidential election in which Sisi is expected to seek reelection.

Sisi's support base see him as a vote for stability following prolonged, violent upheaval in the years after the 2011 Egyptian revolt against Hosni Mubarak. In addition to trying to fight the insurgency in North Sinai, his government has also enacted painful austerity reforms over the last year that critics say have dented his popularity.
COMMENTS
Comments are moderated and generally will be posted if they are on-topic and not abusive.
For more information, please see our Comments FAQ