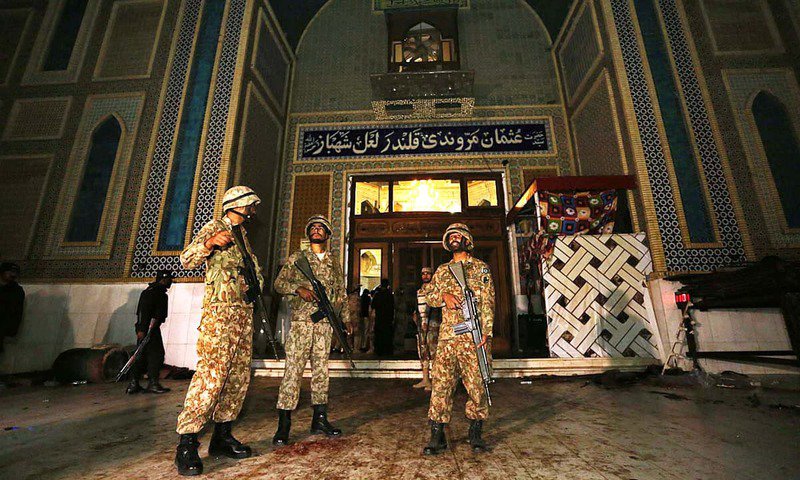 ---
Pakistan ranks fifth out of 163 countries on the Global Terrorism Index (GTI) with a score of 8.4 out of 10, the Australia and US-based Institute for Economics and Peace (IEP) said in its report.

Iraq is on top of the list with a GTI score of 10 on 10 followed by Afghanistan, Nigeria and Syria.

Pakistan being ranked fifth is the country's best result in a decade. Since 2007, Pakistan has ranked as at least fourth on the worst country for terrorism index and was ranked second on six occasions.

The GTI is based on data from the Global Terrorism Database (GTD) which is considered to be the most comprehensive global data set on terrorist activity and has now codified over 170,000 terrorist incidents.

Aizaz urges Afghanistan to cooperate with Pakistan in fight against terrorism




For the second year in a row, the report shows a global decline in the number of deaths from terrorist attacks. In 2016, 25,673 people were affected which is a 22 per cent improvement from the peak in 2014.

"Terrorism has fallen significantly in the epicentres of Syria, Pakistan, Afghanistan and Nigeria, which are four of the five countries most affected by terrorism", stated the report.

However, some disturbing trends were observed. While overall terrorism has fallen it has spread out more than the previous years with more countries being affected. "More countries experienced at least one death from terrorism. This is more than at any time in the past 17 years and reflects an increase from 65 countries in 2015 to 77 in 2016," claimed the report.




While 79 countries improved, 58 countries deteriorated. Some countries, including Nigeria and Pakistan saw large improvements. The overall index, however, "has deteriorated because the countries that deteriorated did so by a much larger degree than those that
improved. "

The report also highlights how unevenly spread terrorism remains globally. Central America and the Caribbean continues to be the least affected region where only 12 deaths were recorded in 2016 - this accounts for less than 0.4 per cent of all terrorism deaths.

On the other hand, 94 per cent of all terrorist deaths in 2016 are located in the Middle-East and North Africa, sub-Saharan Africa and South Asia, according to the report's findings.

Pakistan

According to the report, 2016 was the third consecutive year in which Pakistan recorded fewer deaths related to terrorism.

"In 2016, there were 956 deaths from terrorism; the lowest number in a decade. This is a 12 per cent decrease from the previous year and a 59 per cent decline from the peak in 2013", states the report.

Pakistan has turned the tide on terrorism, Khawaja Asif tells EU parliamentarians

The report attributes the improvements, in part to the Pakistan Army's Zarb-a-Azb military operation which started in mid-2014 in the northwestern region. Officials claim that over 3,500 militants have been killed since the launch of the offensive with authorities vowing to intensify operations both in the border regions and across the country.




"Tehreek-e-Taliban Pakistan was responsible for 283 deaths in 2016, which accounted for 30 per cent of total deaths from terrorism that year. However it should be noted that 30 per cent of all deaths are not claimed by any group," stated the report.

Most deaths resulted from suicide bombing, largest of which targeted Christians celebrating Easter Sunday at Gulshan-e-Iqbal Park in Lahore and killed 79 people.

The report quantifies deaths by other militant groups active in Pakistan. The ISIL-affiliated Khorasan Chapter of the Islamic State was responsible for 16 per cent of deaths in Pakistan. Lashkar-e-Jhangvi, continued to be active in Pakistan in 2016 and accounted for 11 per cent of deaths. Moreover, at least seven different Baloch separatist groups in the southwest undertook attacks in 2016 which resulted in 61 deaths from 60 separate attacks.

The report also states that Pakistan is suffering an economic impact of terrorism. The economic impact of terrorism is calculated using IEP's cost of violence methodology and for Pakistan in 2016, it was 2.8 per cent of its Gross Domestic Product (GDP).