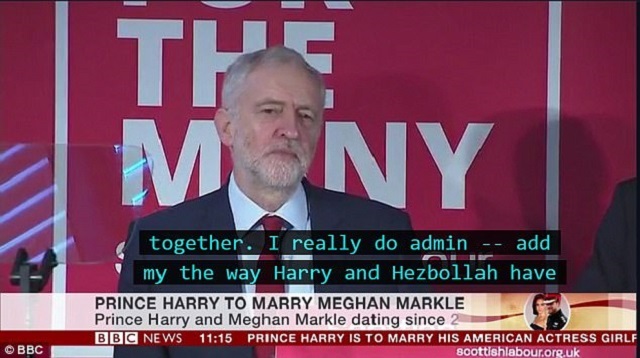 ---
The BBC recently committed a subtitle error when it aired footage claiming that Jeremy Corbyn praised 'Harry and Hezbollah' in his response to news of the recent royal engagement.

As reported by Mail Online, the BBC were covering the Labour leader's response to the news of Prince Harry's engagement with American actress Meghan Markle. Jeremy Corbyn was praising 'Harry and his brother' for their work raising awareness of mental health isssues when the gaffe occurred. Viewers took to Twitter to make fun of the slip up by the BBC, and the media's focus on the issue.

Asad Umar declines to accept 'rigged results', says only biryani with 'aloo' rules


If Prince Harry wants to marry Hezbollah that's his business.

— keir 🏆🇮🇹 (@kxcii) November 27, 2017
Jezza said "Harry and his brother" – the Beeb's subtitler heard "Harry and Hezbollah" https://t.co/oFBhhc4dIj pic.twitter.com/V9BIqXUvvU

— Media Guido (@MediaGuido) November 27, 2017
Jeremy Corbyn says nice things about Prince Harry and Meghan Markle getting engaged and somehow this is the story https://t.co/wnQHIvlMNZ

— Matt Zarb-Cousin (@mattzarb) November 27, 2017




Some claimed that the BBC has an issue with bias against the Labour Party:


Video: BBC turns Corbyn's 'his brother' to 'Hezbollah', gives away… what? https://t.co/2p2qwYLj4A pic.twitter.com/7YtYuhx2al

— The SKWAWKBOX (@skwawkbox) November 27, 2017


Once taboo, socialism finds comrades among US millennials

Despite his republican beliefs, Mr Corbyn conveyed his congratulations to Prince Harry and Meghan Markle. He said: "My congratulations to Harry and Meghan. I wish them well. hope they have a great time and great fun together and having met Harry a couple of times I'm sure they are going to have a great deal of fun together. What I would also like to say is that I do really admire the way that Harry and his brother have drawn attention to mental health conditions all across the country. I wish them well, thank him for what he's done for mental health and hope they have a great life together."