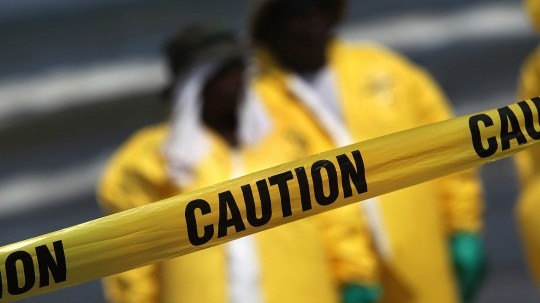 ---
WASHINGTON: BP opted to keep an ineffective test valve rather than replace it with one that might have pinched off the flow of oil and helped avert the Gulf oil spill disaster, the Washington Post reported on Sunday.

The daily wrote that it had obtained a letter showing that BP knew it was risky to keep the test valve on Deepwater Horizon's "blowout preventer," but kept it in place possibly in an effort to save time and money during testing rather than replacing it with a permanent "variable bore ram."

The blowout preventer is a critically important safety system designed to stop the flow of oil and gas if a driller loses control of the pressure in a well. The letter, dated October 11, 2004 by rig owner Transocean's senior marketing executive Christopher Young and signed by BP, documented an agreement that Transocean would convert a variable bore ram with a test ram at BP's expense.

Young wrote that by signing the letter, BP would be acknowledging that the conversion would "reduce the built-in redundancy" of the blowout preventer, "thereby potentially increasing contractor's risk profile." A BP representative signed the letter on October 19, 2004.

A company spokesman told The Washington Post on Saturday that Transocean was responsible for any modifications to the rig. BP told members of Congress at a hearing earlier this month that it was uncertain about whether there had been a reconfiguration of the blowout preventer or what exact changes might have been made.

A variable bore ram can clamp down and seal openings around pipes of different sizes, The Washington Post wrote. The newspaper reported that the after installing the test valve, two variable bore rams still remained on the blowout preventer.

While the test valve was shown to be utterly ineffective, it remains unclear if a third bore ram might have succeeding in stopping the flow of oil.

Right-wing darling Sarah Palin accused US President Barack Obama on Sunday of being lax in his response to the Gulf of Mexico oil disaster and suggested this was because he is too close to Big Oil. The former vice presidential candidate and Alaska governor, who champions off-shore drilling, criticized the media for not drawing the link between Obama and Big Oil and said if this spill had happened under former Republican president George W. Bush the scrutiny would have been far tougher.

"I don't know why the question isn't asked by the mainstream media and by others if there's any connection with the contributions made to president Obama and his administration and the support by the oil companies to the administration," she told Fox News Sunday.

More than 3.5 million dollars has been given to candidates by BP over the last 20 years, with the largest single donation, 77,051 dollars, going to Obama, according to the Center for Responsive Politics. Palin suggested this close relationship explained why Obama was, "taking so doggone long to get in there, to dive in there, and grasp the complexity and the potential tragedy that we are seeing here in the Gulf of Mexico."

The BP-leased Deepwater Horizon rig exploded on April 20, killing 11 workers, and sank two days later. Ever since, hundreds of thousands of gallons of oil, perhaps even millions, have been spewing each day into the sea.

White House spokesman Robert Gibbs mocked Palin's suggestions that Obama was somehow in bed with the big oil companies because of 2008 presidential campaign contributions. "Sarah Palin was involved in that election, but I don't think, apparently, was paying a whole lot of attention," Gibbs said on CBS's "Face the Nation" program.

"I'm almost sure that the oil companies don't consider the Obama administration a huge ally. We proposed a windfall profits tax when they jacked their oil prices up to charge for gasoline. "My suggestion to Sarah Palin would be to get slightly more informed as to what's going on in and around oil drilling in this country."

Earlier this month, Obama ratcheted up criticism of BP over the spills, betraying frustration with the company's failure to stop the leak, and more recently announced a bipartisan presidential commission to probe the huge oil spill. Obama has also accused oil companies of enjoying a "cozy relationship" with the federal agency set up to monitor the energy sector which was later broken up into three separate agencies.

Palin, who quit the Alaska governorship after serving less than half of one term, famously promoted the slogan "Drill, baby, drill!" that rallied supporters while dismissing possible environmental impact of off-shore drilling.

Her detractors switched the line to "Spill, baby, spill!"