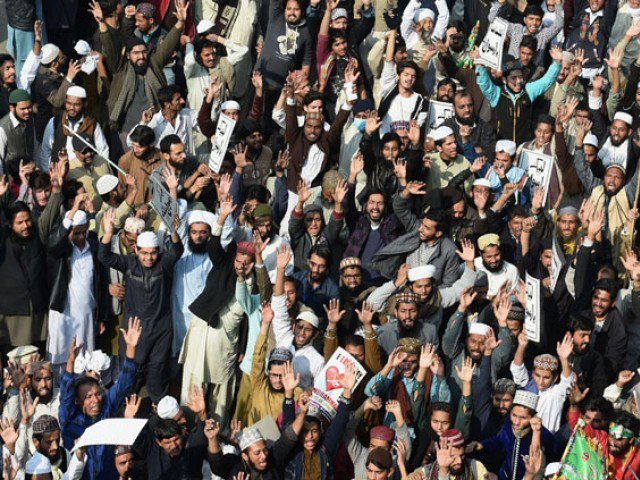 ---
LAHORE/ KARACHI: A little known religious group has refused to end protest in parts of Lahore despite a call by Tehreek-e-Labbaik chief Khadim Hussain Rizvi. Karachi, meanwhile, has started to return to normalcy as demonstrators begin to disperse.

The crippling protest for over two weeks at Faizabad intersection was called off on Monday following the resignation of Law Minister Zahid Hamid and an agreement between the government and protesters.

The announcement came after a botched operation on Saturday to disperse the demonstrators sparked violence in Islamabad that left at least seven people dead and hundreds wounded. It fuelled the spread of the protests to major cities across the country, including Karachi and Lahore.

Refusing to end the sit-in, founder of Tehreek Sirat-e-Mustaqeem (TSM) Dr Ahsraf Asif Jalali said while the group's sit-in was to express solidarity with Tehreek-e-Labbaik but is was not conditional with the protesters at Faizabad, instead a meeting of senior religious scholars later in the day will decided on the fate of their sit-in.

The cleric added that although the government had verbally accepted a few of their demands, no action was taken. Jalali asked his workers to continue the sit-in for the third consecutive day and wait for the future course of action.

Citizens stay indoors as protests continue

The group's demands include resignation of Punjab Law Minister Rana Sanaullah and appearance before the court of Sunni Ullema. The religious leader also called for disqualification of all parliamentarians involved in the proposal of the amendment in Khatm-e-Nabuwwat clause, urging the government to release the name of the 'mastermind' who hurt religious sentiments of Muslims.

Hence, life in the Punjab capital remains paralysed due to unavailability of public transport because of blockades on most entry and exit points of the city. All major market and commercial areas including Mall Road, Hall Road, Beadon Road, Ferozepur Road, Circular Road, Multan Road and Ichara are also closed disrupting the routine life.

Karachi returns to normalcy

Routine activities in Karachi have now started to restore to normal after the activists of religious party called off protests on the orders of their leader.

The city had remained affected for the last three days as Tehreek-e-Labbaik supporters demonstrated in various areas of Karachi. Major markets and business centres were shut while the roads wore a deserted look.

The areas of the city where the sit-ins have been called off include Numaish, Sakhi Hasan, Orangi town, Korangi, Landhi and Asif Square besides other areas.