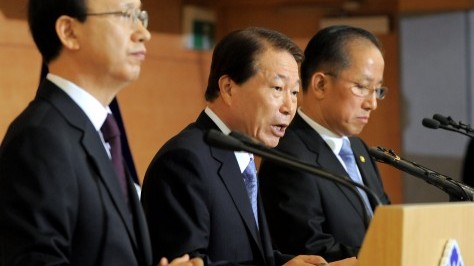 ---
SEOUL: South Korea on Monday announced trade and shipping reprisals against North Korea for torpedoing one of its warships, winning vocal US support but drawing threats of attack from the communist state's military.

President Lee Myung-Bak, in a nationally televised address, said he was suspending trade with the North and banning its merchant ships from Seoul's waters. He vowed an immediate military response to any future aggression and said Seoul would refer the March 26 attack to the United Nations Security Council for punishment.

President Barack Obama expressed full backing for the US ally. He ordered his armed forces to work closely with South Korea "to ensure readiness and to deter future aggression", the White House said.

But North Korea's military threatened to open fire at any South Korean loudspeakers broadcasting propaganda across the border if Seoul follows through on its pledge to install them as part of the reprisals.

"From now on, (South) Korea will not tolerate any provocative act by the North and will maintain the principle of proactive deterrence," Lee said. "If our territorial waters, airspace or territory are violated, we will immediately exercise our right of self-defence." Analysts predicted cross-border tensions would remain high for months but said major conflict was unlikely.

A multinational investigation team last Thursday reported overwhelming evidence that a North Korean submarine fired a heavy torpedo which sank the 1,200-tonne corvette Cheonan near the disputed border, killing 46 sailors.

The United States and numerous other nations have condemned the attack, seen in Seoul as one of the worst provocations since the end of the 1950-53 war. But the North's ally China, which wields a Security Council veto, has only called on all sides to show restraint. US Secretary of State Hillary Clinton is pressing China to get tough with its wayward ally during her current visit to Beijing. She goes on to Seoul on Wednesday.

"Today we face another serious challenge provoked by the sinking of the South Korean ship," she said at the start of two days of high-level talks. "So we must work together to address this challenge and advance our shared objective of peace and stability on the Korean peninsula," Clinton said, urging the North to halt "threats and belligerence" towards its neighbours.

Seoul's Defence Minister Kim Tae-Young said the US and South Korean navies would soon stage an anti-submarine drill off the west coast. The North says the South has faked evidence of its involvement to try to ignite conflict, and threatens "all-out war" in response to any punitive moves.

Its military expressed anger at new moves to wage psychological warfare along the land border, vowing to open fire at propaganda posters or loudspeakers on the southern side. In his strongly worded speech, delivered symbolically from Seoul's war memorial, Lee said trade and exchanges would be suspended since any cooperation was "meaningless" under present circumstances.

He exempted the jointly run Kaesong industrial estate just north of the border, and humanitarian aid for the North's children, from the cut-off. "Once again, North Korea violently shattered our peace," Lee said, urging its regime immediately to apologise for the attack and punish those responsible.

The president said the South in the past had repeatedly tolerated the North's "brutality", citing a 1983 bombing in Myanmar aimed at Seoul's then-president and the downing of an airliner in 1987 which killed 115 people. "But now things are different. North Korea will pay a price corresponding to its provocative acts."

Dongguk University professor Kim Yong-Hyun said tensions would remain acute. "But I believe the two sides may try to find a breakthrough in the second half (of 2010) or after August, although it all depends on South Korea's attitude."

Yang Moo-Jin, of Seoul's University of North Korean Studies, said Lee had "declared an era of cold war" and tensions would escalate further. "A limited military conflict is always possible but the two Koreas are expected to show restraint as the superpowers around the peninsula will not let it go too far," Yang told AFP.
COMMENTS
Comments are moderated and generally will be posted if they are on-topic and not abusive.
For more information, please see our Comments FAQ