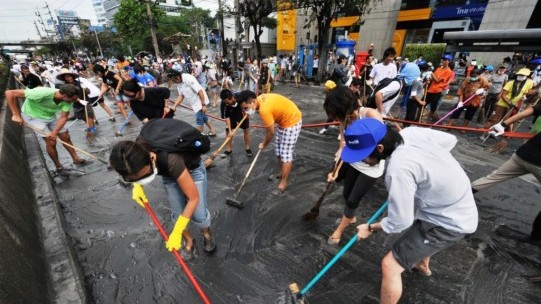 ---
BANGKOK: Thailand's capital whirred back into life on Monday after last week's deadly unrest, as businesses and schools reopened and citizens returned to streets cleared of debris left by arson and looting.

Thoroughfares which for six weeks had been occupied by "Red Shirts" anti-government protesters, who established a fortified encampment in the top shopping district, were finally open to traffic. Office workers returned to their jobs, children went to school and retailers rolled back shutters after the worst civil unrest in recent memory which since mid-March has left 88 dead and nearly 1,900 injured.

The Reds, who are campaigning for fresh elections to replace a government they condemn as illegitimate, disbanded last Wednesday in the face of a military offensive that forced their leaders to surrender. Enraged militants within the movement went on a rampage of looting and arson that left 36 major buildings ablaze including the stock exchange and Thailand's biggest mall, which now stands in ruins.

Downtown Bangkok was scrubbed clean over the weekend in a frenzied operation involving thousands of city workers wielding brooms and power houses, as well as enthusiastic volunteers including foreigners.

The embassies of Australia and Japan, located near the disbanded Reds encampment, reopened while the United States said it would resume full services at its mission on Tuesday. "It's very much back to normal, we're trying to get things back together this week," said Kim Clarke, press officer for the British embassy.

New economic data said the Thai economy grew at a breakneck pace of 12 percent in the first quarter, but that the deadly unrest would clip the full-year growth forecast by 1.5 percentage points. "The Thai economy has repeatedly experienced crisis and managed to revive, but whether it can achieve that this time or not depends on our people," Prime Minister Abhisit Vejjajiva told reporters.

Thai share prices were 1.5 percent weaker in morning trade as trading resumed after the stock exchange was forced to close mid-way through Wednesday's session when it came under attack from the arsonists.

Shares in Central Pattana plummeted 8.3 percent after its flagship mall Central World, which contributed nearly a quarter of the firm's total income, was left in ruins and partly collapsed. Dozens of people stood outside Central World Monday, solemnly snapping photos of the wreckage with cell phones and digital cameras.

"Almost every weekend my family and I came here to go shopping, see movies and eat some food. Now everything is gone, so I'm very sad," said Mito Shiko, 50, a Japanese construction company owner who has lived in Bangkok two decades. Sangchai Saetang, a 55-year-old food vendor, stood in his apron after taking a break from his roadside stall to see the damage at Central World, which five days after the fire is still being doused with hoses.

"It's too much. Whoever did this should not have done it," he said, lamenting that he had been forced to shut his small business for a month. While Bangkok was fast returning to normal, authorities have extended a curfew in force in Bangkok and 23 other provinces, saying the measures would remain in place until Tuesday "for security reasons".

The Reds are mostly supporters of former prime minister Thaksin Shinawatra, who was removed in a 2006 coup. The billionaire was accused of gross rights abuses and corruption, but won grassroots support with his populist policies. Thaksin's elected allies were later ejected in a controversial court ruling, paving the way for Abhisit's administration to be appointed in a 2008 army-backed parliamentary vote.
COMMENTS
Comments are moderated and generally will be posted if they are on-topic and not abusive.
For more information, please see our Comments FAQ