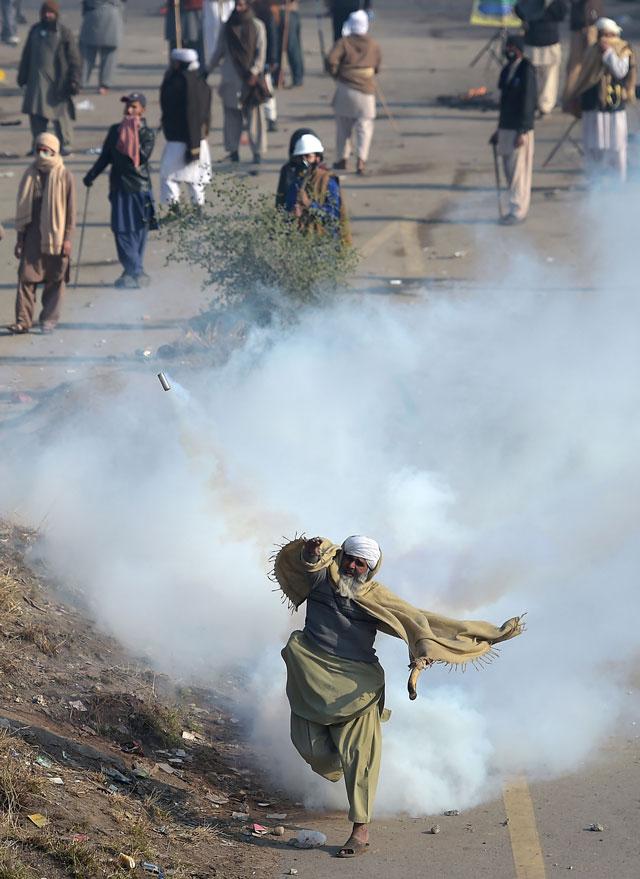 ---
ISLAMABAD: The desperate government called out the army after an abortive operation to disperse hundreds of activists of a religious group camping at an arterial traffic intersection of the federal capital since the start of this month.

A notification issued by the Ministry of Interior on Saturday said a sufficient number of troops, to be determined by the Commander of the 111 Brigade, were being deployed in the capital to assist civil authorities in maintaining law and order. The troops have been deployed in aid of civil power under Article 245 of the Constitution and will remain in Islamabad until further order.

Earlier in the day, the authorities finally launched an operation to retrieve Faizabad intersection from Tehreek-e-Labbaik protesters after weeks of negotiations and nudging by the courts, but the police action only multiplied the government's problems amid a worsening law and order situation in Islamabad and other cities.

At the end of the day, at least six protesters had been confirmed dead, while more than 200 people – including protesters and law enforcers – were injured. All six fatalities took place in Rawalpindi and four of the deceased were identified as Zohaib, Jahanzeb, Irfan and Adeel. The other two were yet to be identified.






The protesters torched over a dozen police vehicles and several motorcycles, as riot police beat a hasty retreat hours after they mounted the crackdown.

Officials said 40 personnel of Rawalpindi and 76 of Islamabad police, 64 Frontier Constabulary men and 50 civilians suffered injuries and were taken to hospitals. None of the injuries was critical though.

The protesters also set ablaze several public and private properties as the sporadic clashes, particularly in Rawalpindi, continued late in the evening.

COAS advises PM to avoid violence in Faizabad crackdown

Two cars, including the one of an additional deputy commissioner, were torched in Islamabad in addition to several private motorcycles, while in Rawalpindi at least 12 police and two private vehicles, including a DSNG van of a private TV channel, were set on fire. A number of private buildings around Faizabad were also damaged.

Islamabad police clarified that no casualty had taken place in their jurisdiction and reports of the death of a police officer which several news channels ran throughout the day were untrue.

The operation launched by the police of the two cities and personnel of the Frontier Constabulary ended in a disappointing failure amid violent clashes between law enforcers and protesters.




PHOTO: AFP

Thousands of police and FC personnel launched the crackdown from all four sides but by the afternoon had retreated even behind their previously held positions.

The law enforcers initially made advances and were able to push the protesters back to the main bridge where the truck carrying the main stage is parked. However, they suddenly retreated amid heavy stone pelting by the protesters. It appears there a lack of coordination and will among high-ups led to the failure of the operation.

A police officer said it had been decided that personnel would squeeze the protesters from all sides. "We pushed the protesters back and made advance from IJP Road, but personnel on other sides could not advance. As a result, the whole pressure fell on us, and we had to retreat," he said. The officer also added that as the law enforcers engaged the protesters a crowd of over 200 suddenly came from the Sohan side and attacked the personnel from behind.

Another police officer blamed his high-ups for not showing the spine once they decided to launch the crackdown. "It was cowardly. I am really disappointed," he said in reference to some officers who were leading the operation.

Karachi police begins operation against protestors at Numaish Chowrangi, Star gate




PHOTO: AFP

As the protesters took on the law enforcers with stones and clubs, dozens were injured on both sides. Most injuries were suffered by FC personnel.

The retreat of law enforcers was particularly dramatic on IJP Road. After the operation was called off, the protesters had a free hand and police had retreated to I-8/4.

A spokesperson for Islamabad police said around 100 protesters had been arrested. He said details of damage due to arson attacks had yet to be ascertained. The spokesperson said the operation was conducted by police and FC, and Rangers did not take part in it.

"At least 40 police officials have been reported injured, including several officers. Seven of our prison vans, four small vehicles and a water tanker have been torched by the protesters," said a spokesperson for Rawalpindi police. In addition a private empty oil tanker, the DSNG van and a furniture store were set on fire on Murree Road.

The Faizabad protest leaders in a statement later said they were severing all talks with the government until the funeral and burial of their dead.

It is pertinent to note that 350 troops were already deployed in the capital under Article 245 since 2014.

 Tehreek-e-Labbaik protesters attack Chaudhry Nisar's house in Rawalpindi




PHOTO: AFP






Khadim Hussain Rizvi, the man leading the Faizabad protest. PHOTO: EXPRESS