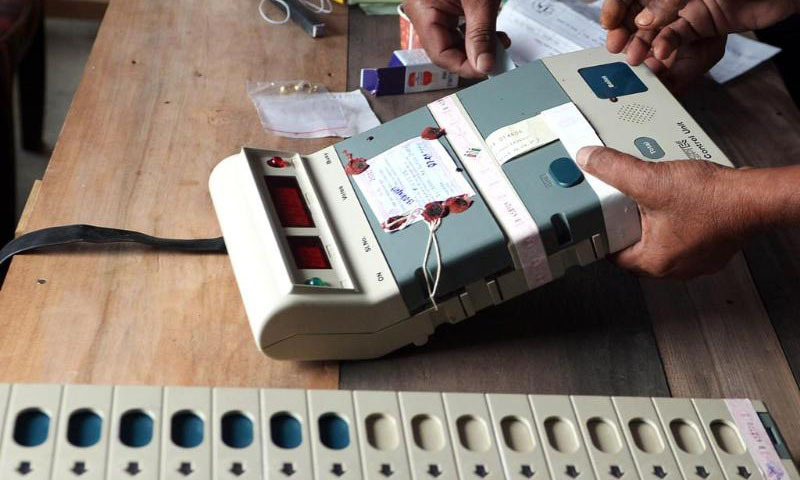 ---
The Election Commission of Pakistan (ECP) has decided not to use electronic voting machines (EVMs) for the 2018 general elections, the authority's Additional Secretary (Administration & Elections) Dr Akhtar Nazir said on Thursday.

Addressing a media workshop organised by the commission in Karachi, he said all necessary preparations have been completed for the upcoming polls, but the EVMs will not be used due to technical difficulties and lack of time, Express News reported.

A work order has been prepared for printing 200 million ballot papers under strict security, said the ECP official, adding that 85,744 polling stations and 268,286 polling booths will be established for the polls.

Electoral integrity and electronics

Revealing further details, Nazir said returning officers (ROs) will be time-barred to issue verified official results by 2am. Polling will be conducted again if turnout of women voters is less than 10% of the total votes in a particular polling station or constituency, he added.

A fine of Rs100,000 along with three-year imprisonment will be handed down against attempts to stop women from using their right to franchise, said the ECP official, citing the recently enacted Election (amendment) Act 2017.

According to the new law, he said two candidates will share two-and-a-half-year tenure as lawmaker each if managed to bag same number of votes. "Who will become member of the assembly first will be decided by mutual understanding of the two candidates," he added.
COMMENTS
Comments are moderated and generally will be posted if they are on-topic and not abusive.
For more information, please see our Comments FAQ