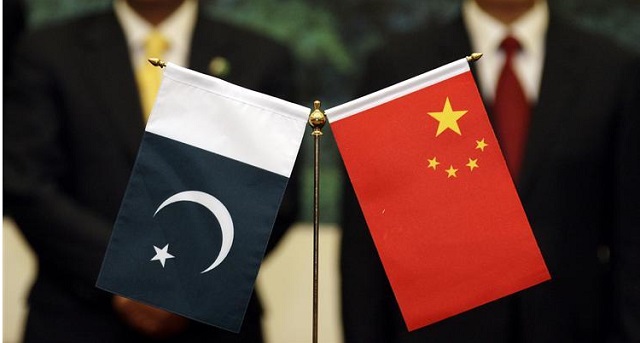 ---
BEIJING: China always regards Pakistan as a priority in its neighbourhood diplomacy and China's development should first and foremost benefit its good neighbours, especially Pakistan, a Chinese foreign ministry's spokesperson said on Tuesday.

"Both the friendly countries held the 8th round of strategic dialogue in Islamabad which was co-hosted by China's Assistant Foreign Minister of Foreign Affairs for Asian and Consular Affairs Kong Xuanyou and Foreign Secretary Tehmina Janjua," Lu Kang, the spokesperson, said during his regular briefing.

8th round: Islamabad, Beijing hold strategic dialogue

During the strategic dialogue, the assistant foreign minister said that China and Pakistan "are all-weather strategic cooperation partners" and "both the countries support each other on issues of core interest", according to Lu Kang.

"China always regards Pakistan as our priority in neighbourhood diplomacy. China's development first and foremost should benefit our good neighbours, especially Pakistan," the spokesperson quoted the assistant foreign minister as saying. "We will maintain this momentum, further advance China-Pakistan relations and actively build a community of shared future."

On her part, Foreign Secretary Tehmina Janjua described the Pakistan-China strategic dialogue as an important channel for strengthening strategic communication and coordination between the two countries, said Lu Kang.

"Pakistan is ready to make full use of this mechanism with China and push forward the constant development of exchanges, cooperation and strategic cooperation in all fields between the two countries," Janjua was quoted as saying.

The spokesperson said in the current round of dialogue, both sides spoke highly of the development of the all-weather strategic cooperative partnership between the two countries and expressed that "they will implement the important consensus reached by the leaders of the two countries, strengthen friendly exchanges at all levels, actively promote the construction of the economic corridor between China and Pakistan, and deepen the pragmatic cooperation and work together to create a common destiny of Pakistan".

Both sides also exchanged in-depth views on international and regional issues of common concern, he added.

On the Japanese foreign minister's remarks on One Belt, One Road, he said, "We are very pleased to see Japan's positive willingness to cooperate with the Belt and Road initiative."

Pakistan rejects use of Chinese currency

He described the Belt and Road as an important international public product provided by China for promoting development cooperation which "has been an open and inclusive platform of cooperation from the very beginning".

China always upholds the principle of discussing, building together and sharing and always upholds the spirit of the Silk Road of peaceful cooperation, opening up inclusiveness, mutual learning, mutual benefit and win-win results and deepens mutually beneficial cooperation with all relevant parties.

"We believe that the continuous deepening of the 'Belt and Road Initiative' will not only create more room for further opening up and development of China, but also provide more opportunities for the development of various countries in the world including Japan and the global economic growth," he added.