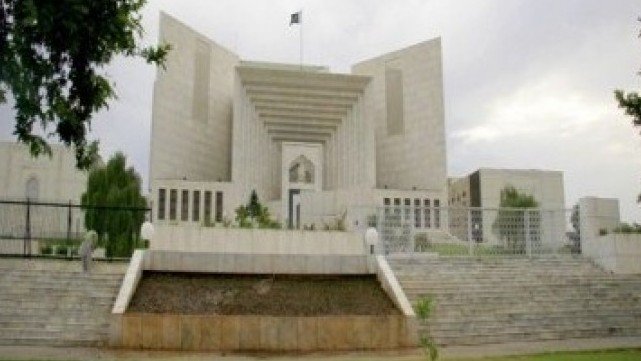 ---
Starting today, the Supreme Court will take up a series of cases, which are widely expected to have political resonance.

First up is the issue of the 18th amendment. A 17-member full court, led by Chief Justice Iftikhar Chaudhry, will begin hearing the 15 petitions challenging a couple of provisions of the amendment, including those dealing with the appointments of judges in the superior courts. Accompanying Chaudhry on the bench will be Justices Javed Iqbal, Shakirullah Jan, Tassaduq Hussain Jilani, Nasirul Mulk, Raja Fayyaz Ahmed, Muhammad Sair Ali, Mahmood Akhtar Shahid Siddiqui, Jawwad S Khawaja, Anwar Zaheer Jamali, Khilji Arif Hussain, Rahmat Hussain Jafferi, Tariq Pervez, Saqib Nisar, Asif Saeed Khan Khosa, Ghulam Rabbani and Khalilur Rehman Ramday.

The 17-member bench was constituted at the request of Mulk, who had been heading the five-member bench hearing the petitions earlier. Given the significance of the matter, it was thought a full court was required to conclusively determine the issues under discussion. The bench is to continue with hearings till May 28 On Tuesday, the same bench will hear the review petitions filed against the court's December 16, 2009 verdict against the National Reconciliation Ordinance (NRO).

The petitions have been filed by former attorneygeneral Malik Mohammad Qayyum and ex-additional prosecutor-general National Accountability Bureau Abdul Baseer Qureshi. Later on Tuesday, law minister Babar Awan is expected to appear before the five-member bench, which has taken up the issue of the non-implementation of the court's NRO judgement. This bench is headed by Mulk. At the last hearing, attorneygeneral Anwarul Haq told the bench that the law secretary would not be available to explain to the court why the government had failed to write to Swiss officials for the reopening of cases against President Asif Zardari.

At this, Mulk summoned the law minister who is now expected to explain the government's point of view. On Wednesday, former Bank of Punjab president Hamesh Khan and the other co-accused in Haris Steel Mills case will be produced before the threemember bench headed by Chaudhry. Meanwhile, erring on the side of caution, Supreme Court registrar Dr Faqir Hussain has asked for security in and around the court to be beefed up. Security cameras have been installed in the courtrooms and at the gates and the reception.

Only lawyers, those who are party to cases or those who're answering summons will be allowed to enter courtrooms, and that too, only after security clearance and the presentation of photo ID. Those needing to enter all courtrooms will need special passes. Briefcases, mobile phones and other electronic gadgets will be barred. Journalists have also been issued special passes.

Published in the Express Tribune, May 24th, 2010.