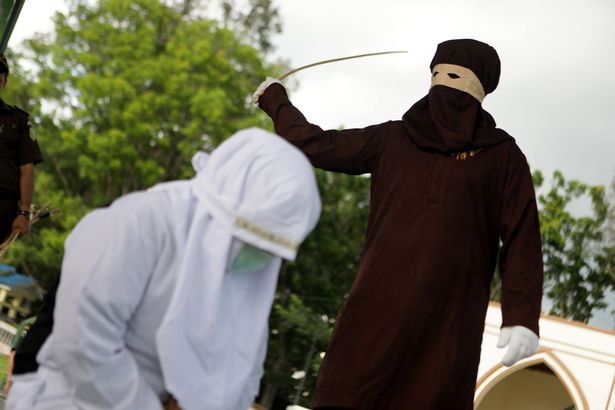 ---
Shocking images have emerged of a woman being brutally canned by a masked Sharia law enforcer for allegedly committing adultery.

The public caning was carried out by an algojo - a Sharia law executor - who was dressed all in black with an eerie black and white mask covering his identity, The Mirror reported.

The woman, dressed in white, was forced to kneel beside the algojo to face her fate.




It is not clear whether there was any evidence of her wrongdoings, or even if a crime had been committed.

It is unlikely that she was given a trial or a chance to defend herself.




Indonesia threatens to block WhatsApp over obscene content

The woman and her partner were both whipped 100 times before they were given medical help.




Nine other people were sentenced to a public caning on Friday all on the same charge of adultery in Aceh.

They are thought to have been given less whips, with some receiving eight, and others hit 18 times.

Jhanto's Prosecutor General Rivanli Azis said that the prisoners confessed in front of the assembly and admitted committing adultery.




He added that one of the convicted woman was spared the whipping as she was pregnant.

He said: "The pregnant [woman] we will whip after giving birth to her baby."

Aceh is the only province in Indonesia which implements sharia law.

Whipping is one form of punishment for those who break the Sharia law.