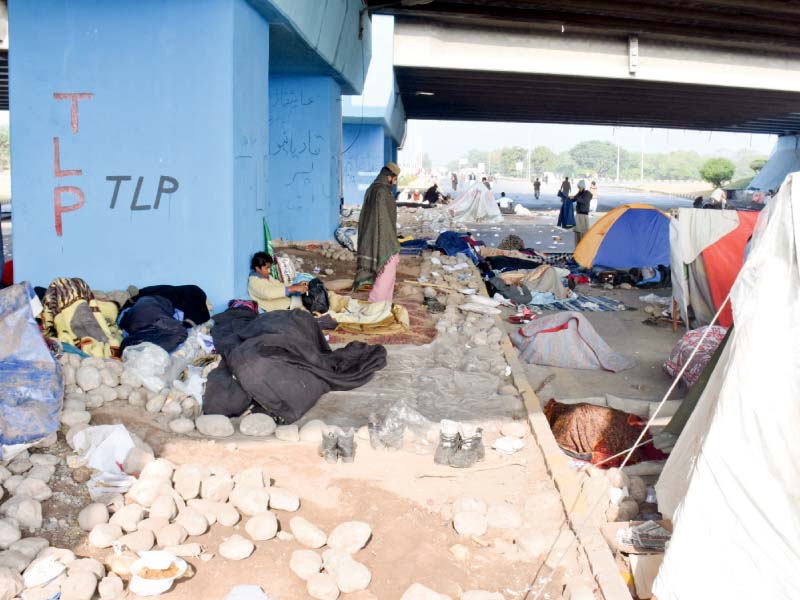 ---
ISLAMABAD: Despite orders from the Islamabad High Court, hundreds of protesters led by firebrand cleric Khadim Rizvi continued to keep the Faizabad intersection blocked for a ninth consecutive day on Thursday.

The protesters, from the Tehreek Labbaik Ya Rasool Allah (TLYR), are adamant on their demands of removing the law minister, blaming him for the recent controversy surrounding amendments in the Khatm-e-Nabuwat clause.

The government, so far, has refused to accede to this demand, noting that no one was responsible for the change, which has since been withdrawn.

The high court on Thursday ordered the organisers of the protest to end their sit-in and open the roads to alleviate the public's suffering.

But the protesters were defiant, though they quickly distanced themselves from TLYR member Muhammad Jawad who had filed the petition in the high court.

"The man who petitioned the high court and on which the court has issued directions has nothing to do with us. He was our member but his membership was cancelled today," confirmed Ijaz Ashrafi, a media adviser for Tehreek-e-Labbaik Pakistan (TLP) and the TLYR. Both the groups are headed by Rizvi.

No talks

Apart from defying the court's orders, the protesters denied they were engaged in talks with the government to peacefully resolve the matter.

"The government tried to convince us by merely offering promises, but we want real action and the removal of the law minister from his post … We respect the law and our demand is not illegal," Ashrafi stressed.

Without talks between the protesters and the authorities, the blockade is likely to continue.

The blockade has also played havoc with the traffic in the twin cities of Islamabad and Rawalpindi. The metro bus service has also been suspended, multiplying the miseries of commuters.

Alternate traffic plans by the Islamabad Traffic Police have also failed to mitigate the blockade since almost all major link roads between the two cities remain clogged with traffic for most of the day.

Iqbal directly negotiating

Despite denials from the protesters, Interior Minister Ahsan Iqbal on Thursday said that he was now directly involved in the negotiating process. Speaking outside the National Assembly, Iqbal said that rights of people are being usurped by agitating in this way.

He noted that people get stuck in traffic for hours, patients unable to reach hospitals and students cannot get to schools. The entire education system in twin cities is suffering and the government has asked these protesters to end their agitation at earliest, Iqbal maintained, urging them to follow court orders.

WITH ADDITIONAL INPUT FROM APP

Published in The Express Tribune, November 17th, 2017.
COMMENTS (3)
Comments are moderated and generally will be posted if they are on-topic and not abusive.
For more information, please see our Comments FAQ