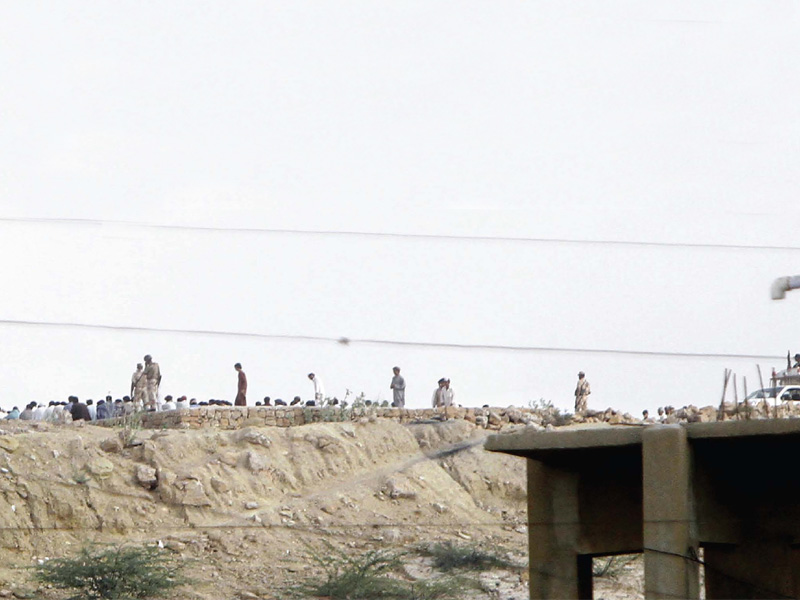 ---
KARACHI: Land grabbers in the city will be targeted during a crackdown by the Sindh government, police and Rangers.

This was decided during the apex committee's 21st meeting on Wednesday. The meeting, chaired by Chief Minister Murad Ali Shah, also discussed crucial issues such as street crime, ghost employees, illegal immigrants and cybercrime but land grabbing dominated the agenda and was termed by participants an "organised crime being committed by militants and organised mafias".

"The money generated through land grabbing is used in crime and terrorism," revealed intelligence officials.

Murad directed the inspector-general of police and Rangers director-general to start the operation soon. "Please make all arrangements to start the operation in areas such as Surjani Town, Gulistan-e-Jauhar, Manghopir, Super Highway and Scheme 33," he told them. Sources privy to the development said that officials briefed the participants of the meeting about organised gangs that occupy land and tamper with revenue records. "Please take strict action against those who are experts or involved in making fake property papers or documents," the CM directed the IG and chief secretary. The chief secretary, who is also a senior member of the Board of Revenue, briefed the meeting and said that the land records have been digitalised. It automatically searches government and private land when the plot number is entered in its search system.

Land grabbers eyeing Edhi centres in Larkana, other parts of Sindh

The meeting was attended by provincial ministers, Nisar Khuhro, Sohail Anwar Siyal, Syed Nasir Shah and Ziaul Hassan Lanjar, as well as Karachi Corps Commander Lt Gen Shahid Baig Mirza, Chief Secretary Rizwan Memon, Rangers DG Major General Mohammad Saeed, Sindh IG Allah Dino Khawaja, Home Secretary Qazi Shahid Parvaiz, additional IGs of Karachi, the Special Branch and Counter-Terrorism Department and the provincial heads of intelligence agencies.

Street crime courts

"We have controlled heinous crimes in the city but street crime has posed a big challenge and we must devise a concrete strategy to control it," Murad said. It was pointed out that illegal immigrants in the city, who number around 2.5 million, are the often involved in street crime.

They generate funds through street crime and fund terrorism and other criminal activities, participants claimed, proposing that street crime be made a part of the apex committee's domain. This proposal was approved by the chief minister, who directed the police and Rangers to begin a crackdown against street crime.

The chief minister also constituted a committee to be headed by the law minister with the provincial home secretary and attorney-general as members to call on the Sindh High Court chief justice to request that certain courts be dedicated for the trial of street crimes so as to get attention focused and make it difficult for culprits to get released easily. "My objective to take drastic measures is to create a deterrence in the commission of street crime," the chief minister explained.

The meeting also has approved the transfer of 28 terrorism cases to the military courts.

Govt land retrieved from encroachers 

The legal committee has so far held 16 meetings and has recommended 106 cases for trial in military courts. Presently, 38 cases with 29 accused are being tried in military courts. The military Courts have convicted 23 and awarded the death penalty to 21 accused, life imprisonment to two and returned three cases to the anti-terrorism court (ATC). One case is still pending before military court.

Fourth schedule

The meeting was also informed that re-verification of all existing fourth schedulers has been completed by the CTD's additional IG. The chief minister directed the home department to approach federal government to amend the Anti-Terrorism Act to curb financial transactions of fourth schedulers through banks.

The Sindh government has approached the interior ministry to notify the Sindh police as a civil authority under the Foreigners Order, 1951, enabling it to take necessary legal action against illegal immigrants as well as unauthorised foreigners in the province.

The home department, on the directives of the apex committee, has approached the State Bank of Pakistan to issue specific instructions to all commercial banks and financial institutions to take all security-related steps as per the bank's existing standard operating procedures.

Missing persons

The issue of missing persons was also discussed during the meeting. It was pointed out that some people are presenting exaggerated data of missing persons to gain political sympathy or present themselves as champions of human rights.

NAB takes notice of illegal land allotment in Gwadar

Murad directed the home department, IG and Rangers to compile data of missing persons so that actual figures could be made available. It was noted that some people go on jihad or for other criminal activities out of country and then go missing there but are included in the number of missing people in the city.

The participants of the meeting were informed that 83 prisoners in high-profile cases, including 52 under-trial prisoners, 18 convicts and 13 condemned, have been shifted from Central Jail Karachi to other districts. Another 137 prisoners, including 69 under-trial prisoners, 50 convicts and 18 condemned have also been shifted from Karachi to other districts.