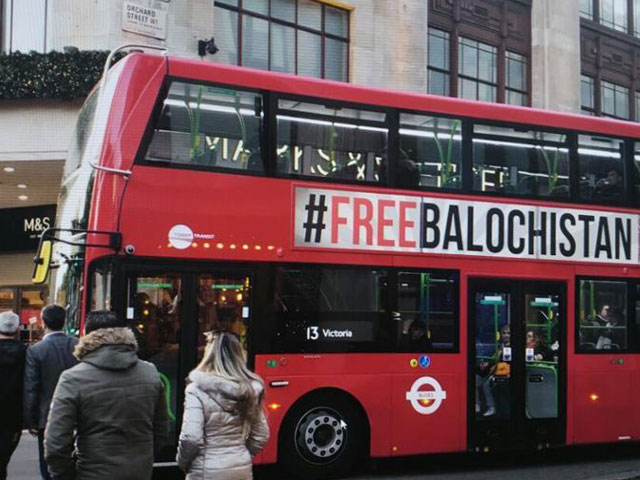 ---
British High Commissioner Thomas Drew on Wednesday expressed his country's inability to control anti-Pakistan advertisements in the UK but made it clear that Britain "fully respects the sovereignty and territorial integrity of Pakistan".

As the British envoy reacted to the anti-Pakistan advertising, Transport for London (TfL), the body that runs London's transport network, started a campaign to remove the controversial advertisement from double-decker buses.

The TfL launched the campaign after the Pakistani High Commission in London lodged a strong protest over the move and urged the transport managers to remove all such material from the buses.

Anti-Pakistan London cab ads being removed

The new controversial anti-Pakistan advertisement appeared in over 100 buses in London just days after a similar campaign on London taxicabs drew strong condemnation from Islamabad.

Responding to the latest controversy, the British high commissioner issued a statement in which he acknowledged Pakistan's unease over the advertisement in London.

While sharing Pakistan's concerns, Drew insisted that the British government did not and could not control advertising in the UK.

"But our own position is clear: we fully respect the sovereignty and territorial integrity of Pakistan, of which Balochistan is and will continue to be an integral part," he was quoted as saying by the British diplomatic mission in Islamabad.

Pakistan, on November 3, had summoned the British high commissioner to formally lodge a protest after Pakistani social media users spotted taxicabs on the London roads and even shared their pictures.

The Foreign Office had termed the anti-Pakistan advertisement a direct attack on the country's territorial integrity and sovereignty.

Pakistan later announced that Transport for London (TfL), the body that runs London's transport network, ordered the removal of anti-Pakistan propaganda advertisements from taxicabs in London after the authorities drew the attention of the British officials to the offensive material.

Similar advertisements also appeared in Geneva, Switzerland. The campaign, according to Pakistani officials, was backed by an enemy country. Although Pakistan did not publicly name it, the reference was aimed at neighbouring India.



Twitter also reacted to the ads placed on the buses:


#FreeBalochistan posters are laying on buses of Great London downtown. @UN @amnesty @AdityaRajKaul pic.twitter.com/HDJSmNpSrb

— Hafsa Baloch (@hafsa__baloch) November 14, 2017
As a British Pakistani, I condemn the advertisement campaigns on London buses and billboards carrying " Free Baluchistan". taglines. I request all Pakistanis to retweet.#stop free Baluchistan campaign.

— FMZ (@ZakaFatimah) November 12, 2017
COMMENTS (15)
Comments are moderated and generally will be posted if they are on-topic and not abusive.
For more information, please see our Comments FAQ