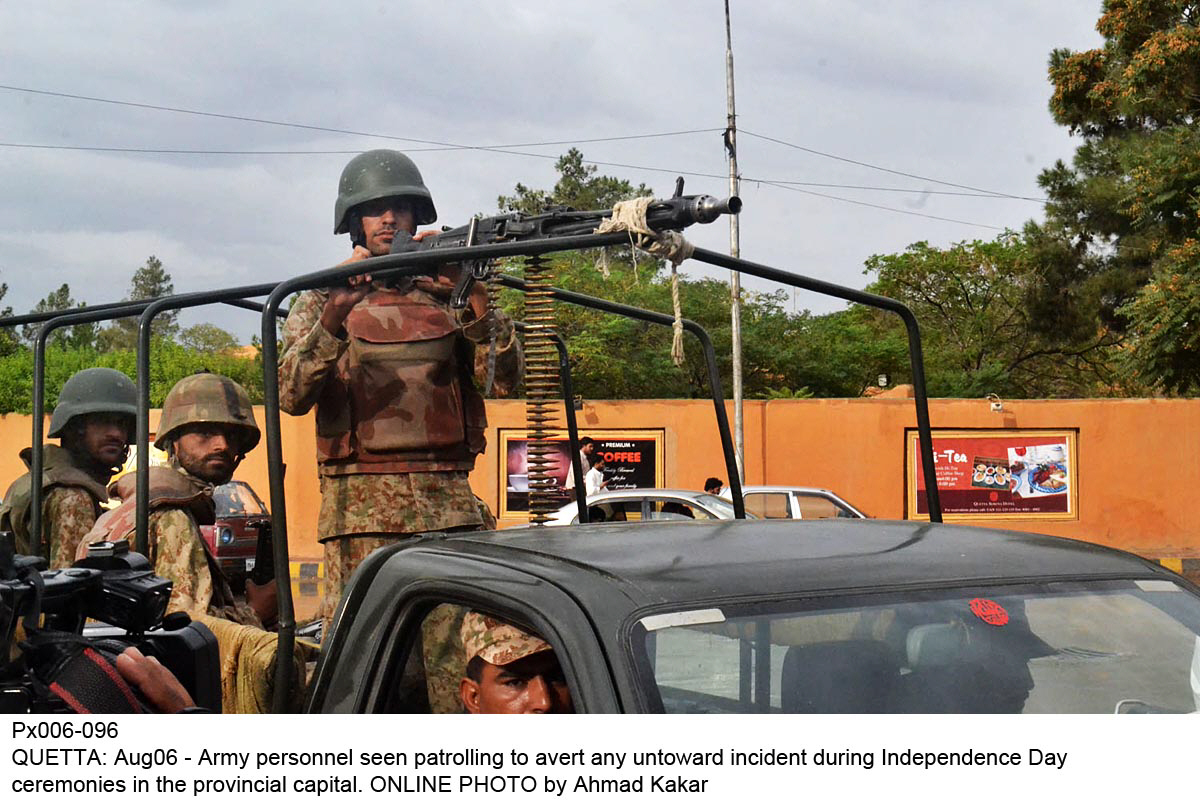 ---
ISLAMABAD: The National Action Plan (NAP) may have been dropped off the priority list of both federal and provincial governments but its massive positive impact on the law and order situation across the country in general and Pakistan's largest province Punjab in particular, cannot be glossed over.

"Under the NAP, more than 50 per cent reduction in incidents of terrorism was witnessed in three years from 2015 to 2017," stated official documents issued by the Punjab Home Department on Tuesday.

The NAP also helped control heinous crimes, besides allowing violence-free Moharram in three years.

The documents revealed that extremism, sectarianism and radicalisation were contained under the NAP.

NAP progress

Starting from December 17, 2014 to October 15, 2017, a total of 103,481 combing operations were conducted in the province. As a result, 3.76 million people were questioned and cases against 21,072 persons were registered.

The official documents also revealed that cases against these persons were registered under different acts and sections. In the mentioned period, a total of 1,453 cases were registered under Foreign Act, 6,032 cases under Arms Ordinance for possessing illegal arms, and 3,434 cases under Control for Narcotics Substance Act 1997.

As a result of proactive actions, 11,427 arms were recovered and 60,110 suspects/criminals were arrested. Meanwhile, action was also taken against 303,233 vehicles which were without number plates and 161,019 vehicles operating with unauthorised number plates.

A total of 333,101 vehicles were impounded in this process while action was also taken against 22,734 vehicles which had tinted glasses.

Fighting terrorism : 'National Action Plan being implemented effectively'

A massive crackdown was initiated against display of arms in the province.

About 8,790 cases were registered against display of arms in the province in which 297 licenced weapons were used. Some 36 licences of Kalashinkov were cancelled, 64 of rifles, 71 of guns and 83 of pistols. A total of 8,493 cases were registered under the Arms Act.

Since January 9, 2015 to October 15, 2017, 18,844 cases were registered under Sound System (Regulation) Ordinance 2015 and 20,024 accused were also arrested under this new law.

The authorities submitted 17,040 challans, 8,515 cases were decided, 7,330 persons were convicted, 1,185 persons were acquitted, while 6,480 cases have the status of pending in courts under the same law.

A total of 3,051 cases were registered, 2,797 accused were arrested, 2785 challans were submitted, 1,419 cases were decided, 1,063 persons were convicted, 356 were acquitted and 1,008 cases were lying pending in courts under 'Prohibition of Expressing Matters on Walls (Amendment) Ordinance 1995.

Will the National Action Plan suffice?

A total of 558 cases were registered under 'Hate Material Cases Section 9 and 11 –W ATA. Under this act 719 accused were arrested, 558 challans were submitted, 450 cases were decided, 146 persons were convicted, 304 were acquitted and 68 cases were lying pending in courts.

Under Maintenance of Public Order 1960 as amended in 2015, 313 cases were registered, 696 accused were arrested, 258 challans were submitted, 78 cases were decided, 60 persons were convicted, 18 were acquitted and 150 cases had the status of pending in courts.

Under Arms (Amendments) Ordinance 1965, a total of 99,680 cases were registered, 99,432 accused were arrested, 88,606 challans were submitted, 15,629 cases were decided, 13,065 persons were convicted 2,564 were acquitted, while 50,724 cases were lying pending in courts.

According to these documents, terrorists are on the run and no easy local facilitation is available to them.

Will the National Action Plan suffice?

The NAP was established by the government of Pakistan in January 2015 to crack down on terrorism in the country.

It was considered as a major coordinated state retaliation following the deadly Peshawar school attack on December 16, 2014. It had 20 points, some of which belonged to the federal and provincial governments, while a few to the security establishment.

For the past few months, experts on NAP have been complaining that both federal and the provincial governments are not sincerely implementing it in literal spirit.