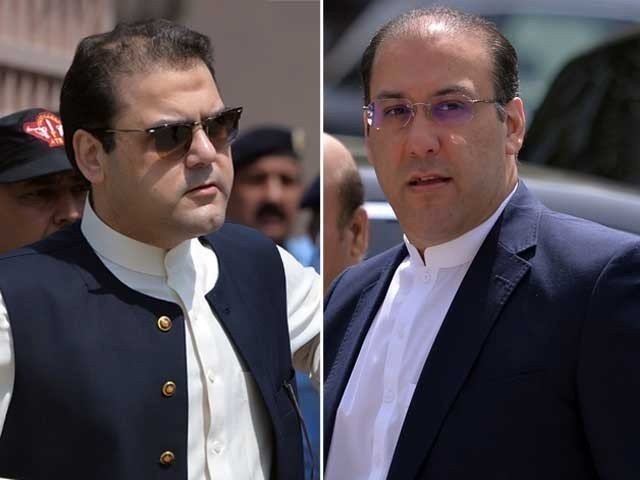 ---
ISLAMABAD: The NAB is set to secure an order, most likely today (Tuesday), from an accountability court, declaring both sons of former prime minister Nawaz Sharif as 'proclaimed offenders' for failing to appear in court, The Express Tribune learnt on Monday.

The accountability court is scheduled to take up the matter today in which NAB's prosecution team would request the court to declare Hassan Nawaz and Hussain Nawaz proclaimed offenders in all three references for "deliberately avoiding court proceedings".

On October 2, the accountability court issued non-bailable warrants for the arrest of both brothers for failing to appear in court. Later, the court separated the trial of Hassan and Hussain from other accused – Nawaz Sharif, Maryam Safdar and Capt (retd) Safdar – and declared them as absconders.

Sharif brothers meet at Jati Umra

The court had also ordered authorities concerned to initiate proceedings under Section 87 (proclamation for person absconding) of the Criminal Procedure Code.

On October 10, the accountability court declared the Sharif's sons as 'absconders' while allowing them to appear before the court within 30 days, otherwise they would be declared 'proclaimed offenders'.

The 30-day deadline expired on November 11.

According to a NAB official, the bureau's prosecution team will inform the court today that both brothers have failed to comply with the court orders and are intentionally skipping court's proceedings in pending corruption references against them.

They would also request the court to seize their properties inside the country under Section 88 of CrPC, said the official.

Three pending references against Hassan and Hussain include Avenfield Properties (London), Azizia Steel Company & Hill Metal Company, and Flagship Investment and other companies.

NAB's prosecution team is likely to present fresh details of properties owned by both brothers.

Earlier, NAB had submitted details of 10 properties in which Hassan and Hussain had shares in business ventures inside Pakistan.

Hussain owns shares in at least 10 companies while Hassan is partner in two companies purportedly owned by the Sharif family.

PM to meet Sharif as SC hearing begins today

During the previous hearing, the prosecution team had informed the court that it was waiting for a reply from various authorities, including LDA, DHA, Bahria Town and the State Bank of Pakistan (SBP), about other assets of the accused.

Also on Monday, Chairman of the National Accountability Bureau (NAB) Justice (retd) Javed Iqbal issued directives to challenge the Balochistan government's decision to declare the house of former finance adviser Mir Khalid Langho as sub-jail.

Langho is allegedly involved in mega corruption scam.

According to a statement issued by NAB, "the Balochistan bureau had prepared a legal application to challenge the administrative orders of provincial government".

NAB stated that the former adviser was involved in a corruption case and the provincial government was providing him unnecessary facilities.