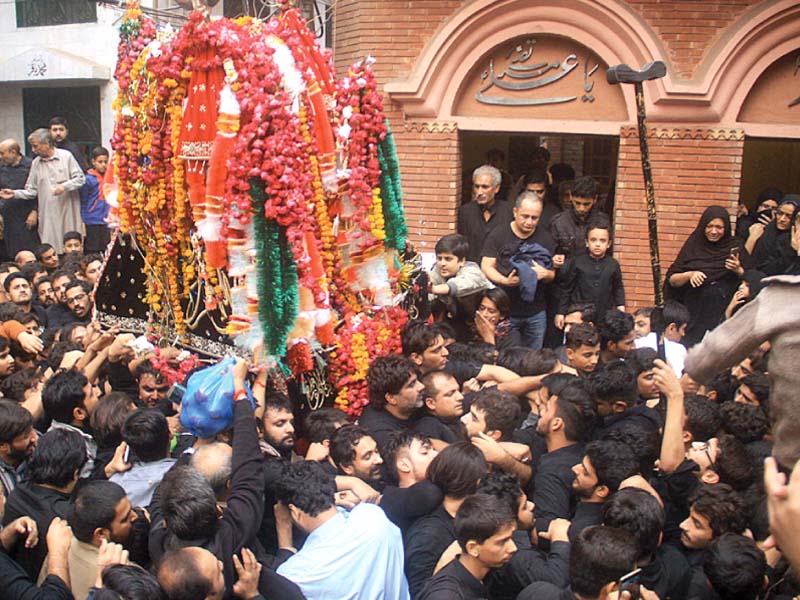 ---
LAHORE: The chehlum of Hazrat Imam Hussain and his companions as well as the Urs of Hazrat Usman Ali Hajveri - popularly known as Hazrat Data Ganj Bakhsh – concluded peacefully on Friday.

A number of processions and majalis took pace in different parts of the city. The main procession for the chehlum ended at the Karbala Gamay Shah amid strict security arrangements.

Thousands of law enforcement officials were deployed on the route of the main procession and other majalis in different parts of the city. Mobile phone services also remained suspended on the routes and surrounding areas of the procession for several hours.

The processions were taken out from Islampura, Model Town, Imamia Colony, Dharampura, Nawab Town, Baghbanpura, Raiwind and Jaffria Colony and many other areas. The main procession began from the Haveli Alif Shah Mochi Gate and culminated at Karbala Gamay Shah. It passed through Masjid Wazir Khan, Rang Mehal, Pani Wala Talab, Bazar-e-Hakima and Bhaati Gate.

A four-tier security arrangement was made for the processions and all entry points to the venue were sealed with barbed-wires and participants were checked using walkthrough gates. The Punjab Safe City Authority had also set up a control room to monitor the procession through CCTV cameras. A medical camp was also setup by Rescue 1122 to facilitate mourners.

Similar security arrangements were made for the Urs of Hazrat Data Ganj Bakhsh. More than 2,500 police officials were deployed at the venue. As many as 28 SHO and three SPs were also deployed as part of the security arrangements and roads leading up to the shrine had been closed down for all vehicular traffic. Barricades were erected and participants were frisked and checked with metal detectors before being allowed in.

Traffic was blocked from Katchery Chowk towards Data Sahib, Bhatti Gate, Taxali Gate and streets around Data Darbar, while traffic from Akhri Bus Stop was diverted to Firdous Cinema, Sanda Road and MAO College. No vehicles were allowed towards Pando Street. About 290 additional traffic wardens were deployed to control the flow of traffic for the urs.

For arrangements of the urs and chehlum, separate teams worked at the Punjab Safe City Authority with 230 cameras monitoring the venues and the routes of the processions.

Published in The Express Tribune, November 11th, 2017.
COMMENTS
Comments are moderated and generally will be posted if they are on-topic and not abusive.
For more information, please see our Comments FAQ