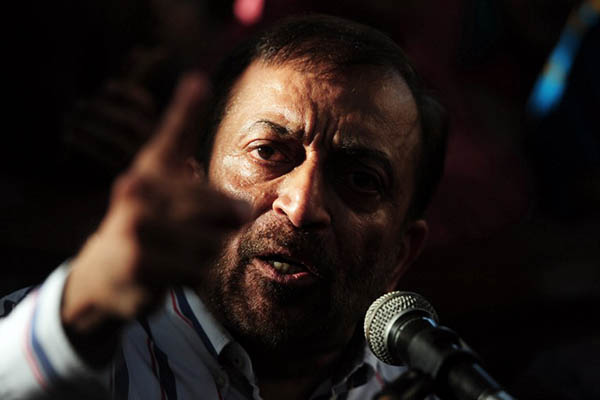 ---
As Farooq Sattar dramatically turned the tables post a press conference with Mustafa Kamal on an electoral alliance that nearly ended his political career, Pakistani Twitter was at its very best – with Sattar trending at number one overnight.

At 8pm on Thursday night, the president of Muttahida Qaumi Movement–Pakistan (MQM-P) called for a press conference at his residence in an hour.


I have called an urgent press conference today at 9 pm to make an important announcement. Stay tuned. #KiteIsMyIdentity

— Dr Farooq Sattar (@DFSMQM) November 9, 2017


Two and a half hours later, Sattar's tirade did not spare anyone – from the establishment to Pak Sarzameen Party (PSP), reiterating the Muhajjir, middle class and sectarian causes before taking on his own party.

Motherly persuasion keeps MQM-P intact

Clearly upset with members of the Raabta Committee, and party supporters and workers for doubting him over allegations of a 'merger' with Mustafa Kamal's PSP, Sattar announced his resignation from his post as MQM-P chief and quit politics altogether, only to resume his role as party chief two hours later. To describe the aftermath of the events as an uproar would be an understatement, not just in his immediate vicinity but on social media as well...


Nahi Bhai Nahi Bhai

9 0 ki yad agai

— Shafaat Ali (@iamshafaatali) November 9, 2017
BREAKING NEWS: Farooq Sattar announces to quit politics.

--- and then comes nahi bhai, nahi bhai moment!!!

— Faizan Lakhani (@faizanlakhani) November 9, 2017


Some [rightfully] predicted he would be back


Farooq Sattar will back in few hrs. "In wasi tar mafaad of Muhagir quom ".#Altaf Hussain in Sachet pack#

— Syeda Shehla Raza (@SyedaShehlaRaza) November 9, 2017
Terrorists continue to target Balochistan; smog & overspending accidents claim lives across Punjab; Islamabad paralysed by protestors; & MQM-PSP play out dramas of merger-separation! Theatre of the absurd!

— Shireen Mazari (@ShireenMazari1) November 10, 2017


Most found it be nostalgic...


'Been there, Done that. Many times.'#FarooqSattar pic.twitter.com/czFdJsb1IN

— SIR .. (@SirJohnRoe) November 9, 2017
Altaf Bhai right now. #FarooqSattar pic.twitter.com/ewPSTvgY7F

— Umair Farooq (@UmairFarook) November 10, 2017
I wonder what Altaf Bhai is feeling watching this. 😂😂😂😂

— کاظمی (@HaayeShabbir) November 9, 2017
Farooq Altaf Hussain Sattar!
What else can I say.

— Ali Haider Zaidi (@AliHZaidiPTI) November 9, 2017


MQM-P, PSP plan to contest elections as 'one party'

Some pointed out the obvious:


Muharram mein Nikkah karogay, toh rishta Chehlum se pehle he toot jayega na!#PoliTits

— Scheff ✏🎬🎸🥁📚 (@shafiqulhasan81) November 9, 2017
Jab bachay raazi nahin hotay tau abbu ami arranged marriage karwa daitay hain #MQM #PSP

— Zarrar Khuhro (@ZarrarKhuhro) November 8, 2017
Even Farooq Sattar is longer than MQM-PSP alliance

— Qasim Zaidi (@QasimZaidi_) November 9, 2017


The important cameo played by Sattar's mother in his 'return' did not go unnoticed...


"Ma, lemme talk"

❤️ pic.twitter.com/wkOPcqhGXA

— Mosharraf Zaidi (@mosharrafzaidi) November 9, 2017
I'm glad my mom is fast asleep unlike Farooq Sattar's mother. Otherwise she would say "dekho, he also listens to his mother even at his age"

— Aaliya Javed (@Aaliyajaved) November 9, 2017
Mama's gonna make all of your nightmares come true
Mama's gonna put all of her fears into you
Mama's gonna keep you right here under her wing
She won't let you fly but she might let you sing~#FarooqSattar

— Qasim Zaidi (@QasimZaidi_) November 9, 2017


Nor did Twitterati miss his story of the "land cruiser"


There goes any chance of Farooq Sattar ever getting a bank loan. #DefaultPeDefault

— Shehryar Ahmed (@ShehryarAhm) November 9, 2017


Most of all, Twitterati agreed on the MQM-P chief's emergence of as a leader:


On Farooq Sattar today:
Sensational victories are best created from illusions of defeat.
As Sun Tsu put it - appear weak when you are strong; strong when you are weak

— Gibran Peshimam (@gibranp) November 9, 2017
Wow. This is the day Farooq Sattar became leader of the MQM. Well played.

— ظلِ الہٰی (@XilleIlahi) November 9, 2017
It might not make sense now but today is the day Farooq Sattar has turned into a big leader.

— کاظمی (@HaayeShabbir) November 9, 2017
What an epic presser, yaar. Took on the establishment, talked about his missing persons, and breathed life in the long forgotten demand of a Muhajir province. Truly Remarkable! Let the politics of Muhajir issues begin. Dont let this thing slip now, #FarooqSattar

— Ahsan Iftikhar Nagi (@ahsannagi) November 9, 2017


Sattar ended chaotic day expressing gratitude to those who "showed their love and support".


I express my heartiest gratitude for those who showed their love and support for me, #MQM Pakistan and our cause to alleviate the sufferings of Mohajirs & other oppressed communities.
Long live MQM
Long live Pakistan #KiteIsMyIdentity

— Dr Farooq Sattar (@DFSMQM) November 9, 2017


Some followed his end note with this:

https://twitter.com/AsNr80/status/928290200882761728

How did you feel about the presser last night? Leave your comments below!