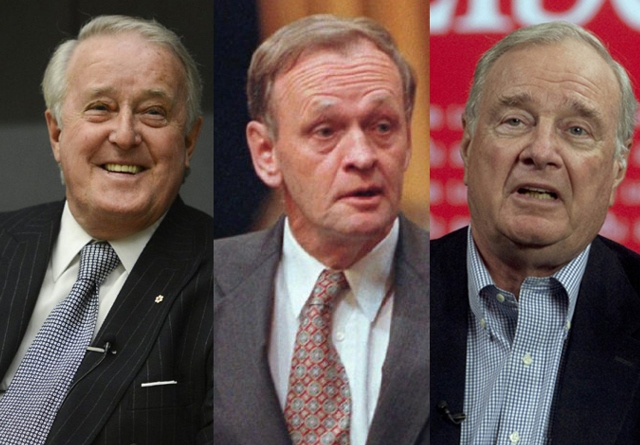 ---
KARACHI: Names of at least three former Canadian prime ministers appeared in the Paradise Papers leaked on Sunday.

Brian Mulroney, Jean Chretien and Paul Martin, who occupied 24 Sussex Drive from a period stretching from September 17, 1984 till February 6, 2006 – over 21 years, had offshore accounts.

Kim Campbell, who served as PM for four months in 1993, never lived in the PM's official residence in Ottawa.

The name of an ally of incumbent Prime Minister Justin Trudeau also emerged in the Paradise Papers.

Former PM Shaukat Aziz, ex-NICL chief Ayaz Khan Niazi named in Paradise Papers

Mulroney

According to the International Consortium of Investigative Journalists, Brian Mulroney served as prime minister of Canada from 1984 to 1993, also the leader of the Progressive Conservative Party and is now a law partner in Montreal. He signed the North American Free Trade Agreement and has been called "one of the architects of today's global economy".

Mulroney is listed in Appleby's files as a director between 2004 and 2009 of Said Holdings Limited, a Bermuda company controlled by controversial Syrian-Saudi businessman Wafic Said. The company's other directors included top Margaret Thatcher adviser Lord Powell, and former World Bank president Robert Zoellick.

Said was a key intermediary in the controversial al-Yamamah oil-for-arms deal, worth tens of billions of dollars, between the United Kingdom and Saudi Arabia. BAE Systems in 2010 settled a US Department of Justice bribery investigation and a separate British probe by pleading guilty to criminal charges and paying about $450 million in fines.

Queen Elizabeth's private estate invested in offshore funds: Paradise Papers

Chrétien

After Kim Campbell's four-month stint, Jean Chrétien of the Labour party became prime minister for a decade from 1993 to 2003, winning two re-election campaigns along the way.

Bermuda-registered Madagascar Oil Limited awarded options to Chretien in July 2007 as a consulting fee, according to documents in the Appleby files. Madagascar Oil was formed to explore and drill for oil in Madagascar and shares revenue with the government there. Madagascar Oil went public in November 2010 at a valuation of $284 million.

Madagascar Oil Limited was shareholder of two companies registered in 2004 and 2010 in Mauritius. One of them, Madagascar Oil Services Ltd was created to "be a holding company of a group of companies involved in the exploration and development of heavy oil".

The Appleby files contain no evidence that Chretien exercised the options.

In an interview with the Canadian Broadcasting Corporation (CBC), Chretien said that he worked for Madagascar Oil "only for a few days, a few weeks". "I have never had any [stock] option," he said. "I was never sent any document, I have never received an annual report of anything." Chretien added that Madagascar Oil "probably used … my name, to show there was a link with me. But [the company] never sent me any document on this." He claimed that he was not aware he had options.

Trump's cabinet member amongst those named in Paradise Papers

Martin

Paul Martin succeeded Chretien and is the only one of the trio to have had ties to offshore firms before being elected.

The Liberal prime minister of Canada from 2003 to 2006 was a prominent businessman who sold his holdings in CSL Group to his sons in 2003 to minimise conflicts of interest while serving as prime minister. Martin was known to have offshore holdings at the time of his election and was regularly criticised for them by political opponents. In fact, in 1995, the then finance minister Martin granted some exempted Barbados from offshore tax reform, and his company promptly set up units there.

In 1991, CSL Self-Unloader Investments Ltd, part of CSL Group, was registered in Bermuda. It was created to hold the shares of two Barbadian corporations involved in a leaseback contract for three shipping vessels owned by the group. The company was active while he held government positions, including the finance minister.

CSL Group registered at least 12 more entities in Bermuda in the years after Martin's children took over the firm according to the Appleby files. The companies were registered in 2012 and 2013 and their purposes involved international traffic, vessels and transportation of cargo.

A spokesperson for Martin said that he "has not been involved in CSL in over a quarter century and is not in a position to comment on its operations."

Trudeau ally

Meanwhile, one of incumbent Canadian PM Justin Trudeau's primary backers is also on the list. The chief fundraiser and senior adviser to Trudeau, Stephen Bronfman, heir to the Seagram fortune, was instrumental in Trudeau's successful bid for leadership of the Liberal party in 2013 and his rise to the premiership two years later. Bronfman is tied through his family investment business in a complex web of entities in the US, Israel, and the Cayman Islands. Multimillion-dollar cash flows between the three jurisdictions may have been used to legally avoid taxes in the US, Canada and Israel.


Key aide of @JustinTrudeau linked to offshore schemes which may have cost Canada millions in taxes https://t.co/Gk4kjFbpmx #ParadisePapers

— BBC Breaking News (@BBCBreaking) November 5, 2017


The leaked documents unveil a close relationship between two wealthy families who collaborated to shift millions of dollars to the Cayman Islands. On one side were the Bronfman family, inheritors of the Seagram distillery fortune in Montreal. On the other side was the Cayman Islands-based trust of Leo Kolber, a former Canadian senator and powerhouse within the Liberal party Trudeau now leads.

The CBC, Radio-Canada and the Toronto Star found that Bronfman and his Montreal-based investment company, Claridge Inc were key players linked to a $60 million offshore trust in the Cayman Islands that may have cost Canadians millions in unpaid taxes.

The news is embarrassing for Trudeau, who claimed he would fight against the use of offshore companies to evade taxes.