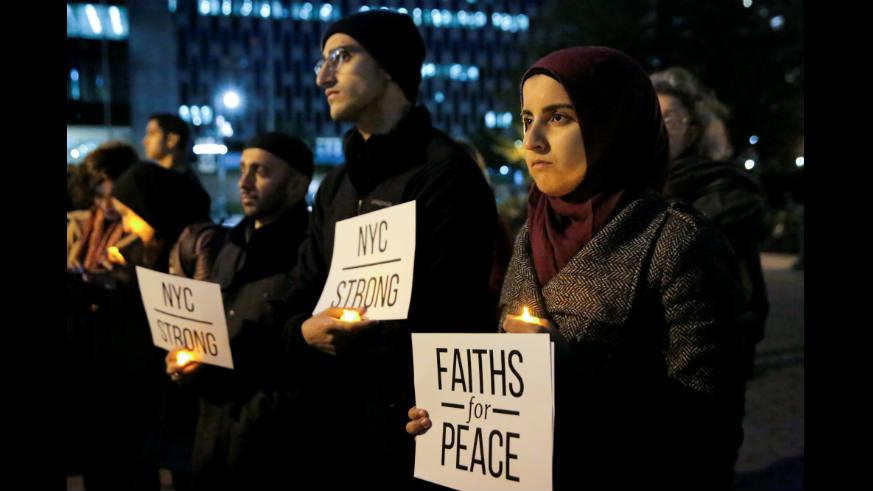 ---
After the attack in New York, on Tuesday, fears in the heart of Uzbek Muslims have developed; they dread being harassed or treated poorly.

Mohammad Razvi oversees a community group, the Council of Peoples Organisation (COPO), that he helped start after the 9/11 attacks said he was worried he might soon start hearing stories about Muslims being harassed.

When Razvi arrived at his office on Wednesday morning, he sent two employees to the basement to fetch a plastic tub of American flags. He engaged three more workers to help, and the group walked onto a sidewalk on Coney Island Avenue, the main street of the Brooklyn neighbourhood known as Little Pakistan.

Tape dispensers in hand, they began putting up the flags in every storefront window on the block. But Razvi thought this was not was enough. "I'm going to put up the big, big flag," he said.

A worker propped a ladder against the front of the building and climbed it, holding the folded flag. This flag was so enormous, about twenty feet by thirty feet, that two ropes were required to fasten it.

Suspected terrorist truck attack kills eight on New York bike path

In the months after 9/11, when the FBI detained hundreds of Pakistanis for immigration violations, Razvi's group provided legal aid and support for their families. Over time, COPO became a more conventional community center, with programs for children and seniors.

President Trump's Inauguration put Razvi in mind of the frightening days after 9/11. When I visited Razvi at COPO's office this past February, just after Trump announced his first travel ban, he told me that he was especially concerned about how Trump might respond if a Muslim carried out a terrorist attack in the United States.

Then, this Tuesday afternoon, Sayfullo Saipov, a 29-year-old Muslim immigrant from Uzbekistan, drove a rental truck down the West Side Highway bike path. The attack killed eight people.

In response, President Trump renewed his calls for more restrictions on immigration, tweeting, on Tuesday night, "I have just ordered Homeland Security to step up our already Extreme Vetting Program. Being politically correct is fine, but not for this!"

In 2002, when Razvi founded COPO, the neighbourhood was largely Pakistani, but recent years have seen an influx of immigrants from Uzbekistan.

Uzbekistan offers help in New York truck attack probe: president

There are now an estimated eighteen thousand Uzbeks living in Brooklyn, and thousands of those new immigrants have found their way to COPO.

Muslim New Yorkers also share a deep distress of reprisal. Anti-Muslim hate crimes in the city jumped almost 50 per cent from 2015 to 2016, and 2017. The Uzbeks were worried and sad after the attack, fearing the action of one Uzbek would damage the reputation of the entire community.

On Wednesday morning, Razvi found three Uzbek women in the COPO waiting room, who wanted to write a message about the attack.

"We are Uzbek residents of Brooklyn. We reject the hatred that caused the attack in Manhattan. We have come here to have a better life for our children and our family. We are one with all Brooklyn residents, all NYC residents, all Americans. United we stand!"

The women signed their names—Madina, Gulnora—on posters that were stuck beside the message. A group of older Pakistani women in headscarves emerged, each picked up a pen and signed her name in solidarity.

This story originally appeared on The New Yorker.
COMMENTS
Comments are moderated and generally will be posted if they are on-topic and not abusive.
For more information, please see our Comments FAQ