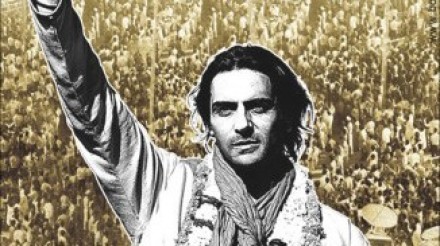 ---
MUMBAI: Arjun Rampal, who seems to be on a roll after Rock On, for which he got a National Award, and hits like Om Shanti Om, says his role in Raajneeti is similar to that of Bhim in the epic Mahabharata.

"I have observed many politicians especially young guys like Sachin Pilot, Milind Deora, Rahul Gandhi as well as Rajiv Gandhi and Sanjay Gandhi in their younger days. You watch them to know how they moved and study their body language."

"You don't really copy or emulate them. In this film, we are all educated politicians," said Rampal.

"When you see them you get a glimpse of how politicians have changed. There are things to observe like when they (young politicians) sport Reebok or Nike shoes with a white kurta and pyjama while campaigning. These are the small elements that I tried picking up from them for my character."

Giving a peek into his new film that releases June 4 and focuses on how a handful of people control the destiny of millions, Arjun said Raajneeti, directed by Prakash Jha, does not preach politics.

"The film is more about what happens behind close doors and is more of a political family drama."

The characters of Ajay Devgan, Ranbir Kapoor, Manoj Bajpai, Katrina Kaif, Sarah Thompson, Naseeruddin Shah and Nana Patekar are loosely inspired by those in the epic Mahabharata.

Rampal said, "Prakash came to me five years ago with the script of Raajneeti. He discussed how he wanted to make it almost like Mahabharata by taking certain characters from the epic and putting them into the political backdrop of the film."

"He wanted me to play the character of Bhim. I liked the idea. He disappeared for five years and then he called me back. I read the script and started working out how the character would be."

Rampal described his character Prithiviraj Pratap. "He is a person with big heart and wants to achieve something fast in life. He is aggressive and is a person who sees either black or white. If he likes something, he loves it, if he dislikes something, he hates it. So he would be on that level of extreme. He goes through a gamut of emotions and has a very good sense of politics."

According to Rampal every character in Raajneeti is indispensable.

"He (Jha) has not done injustice to any of the characters. It's like a jigsaw puzzle. If you remove one, the film would fall apart. Everyone has got almost equal screen time."

In real life, Rampal says he lacks the built-in quality to be a true politician and would not try his luck in politics. "You really need different kind of qualities to be a politician. I don't think that I have those qualities, but, yes, if I feel there is an issue, I will voice my opinion."

In last few years Rampal has featured in hits like Don (2006), Om Shanti Om (2007), The Last Lear (2007), Rock On!! (2008) and Housefull (2010), and he is very grateful for the success that he has had. The model-turned-actor, who had a string of flops before he had a major hit, said "I have been choosing the work I would like to do and luckily the choices are working."

Published in The Express Tribune, May 24th, 2010.
COMMENTS
Comments are moderated and generally will be posted if they are on-topic and not abusive.
For more information, please see our Comments FAQ