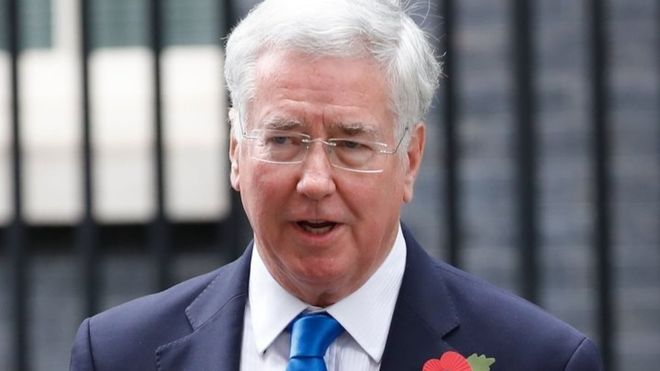 ---
The barrage of sexual harassment lawsuits against Hollywood executives in the past few weeks has encouraged many women to come out and speak up about their own experiences with high-profile men, and British Defence Secretary Sir Michael Fallon seems to be the latest casualty of the continuing saga.

In a surprise move, he resigned from his office on Wednesday following a highly-publicised allegation of sexual harassment, the UK defence ministry said.

According to BBC News, his decision was not related to new developments or specific claims made against him by a female journalist.

He reportedly said that his behaviour might have 'fallen short' of the high standards expected by the United Kingdom's military.

Prime Minister Theresa May said she appreciated the "serious manner" in which Sir Michael had considered his role.

May also praised the "particular example you wish to set servicemen and women and others".

In his resignation letter, Sir Michael said: "A number of allegations have surfaced about MPs in recent days, including some about my previous conduct."

"Many of these have been false but I accept that in the past I have fallen below the high standards that we require of the armed forces that I have had the honour to represent."

He added that it had been a "privilege" to have been defence secretary over the past three and a half years.

In response, May accepted his resignation, and paid tribute to "a long and impressive ministerial career - serving in four Departments of State under four prime ministers".

The resignation comes a day after a spokesperson for Sir Michael confirmed that he was once rebuked by a journalist, Julia Hartley-Brewer, for putting his hand on her knee during a dinner in 2002.


#Kneegate (although I doubt my knee was the reason) https://t.co/1S9uVEkNLG

— Julia Hartley-Brewer (@JuliaHB1) November 1, 2017


The spokesperson also said that Sir Michael apologised when it happened.

Following a range of recent allegations, including claims of a lack of support for those making complaints, May had written to party leaders calling for the "serious, swift, cross-party response this issue demands".

The prime minister said a "common, transparent independent grievance procedure" for all those who work in parliament was needed and that it "cannot be right" for policies to vary between parties.