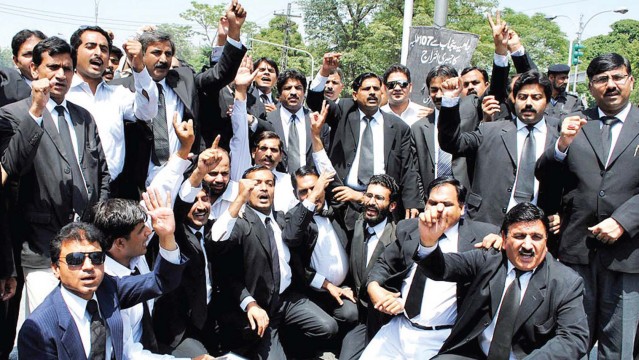 ---
LAHORE: The Punjab Bar Council's (PbBC) call for a partial boycott against the new judicial policy was well received by most lawyers who refused to argue cases on Saturdays.

All regular cases were adjourned and only urgent cases and bail requests were heard. The secretary of the Lahore High Court Bar Association (LHCBA) sent a written request to the chief justice of the LHC and the sessions judge and urged them to issue instructions against non-prosecution dismissals during the strike.

Rana Muhammed Akram the chairman of the executive committee (PbBC) elaborated, "We are not against the speedy disposal of cases but we take issue against pointless dismissals in the name of judicial policy. The courts should impose a fine when lawyers are deliberately avoiding court appearances and delaying cases. But when a genuine adjournment is requested, it should be granted".

Mian Shah Abbas the vice president (LHCBA) stated that the lawyers would observe the Saturday strike until the judicial policy was changed and their requests were incorporated into it. He stated that the policy and the deadline issued for clearing the backlog of pending cases was being used by judges as a means of exploitation.

Rana Sajid Bashir the president of LBA stated that there was no disagreement that steps needed to be taken to ensure that thousands of pending cases were disposed of. But he added that the new policy should not encourage or force judges to dismiss cases without proper trials just so the deadline is met.