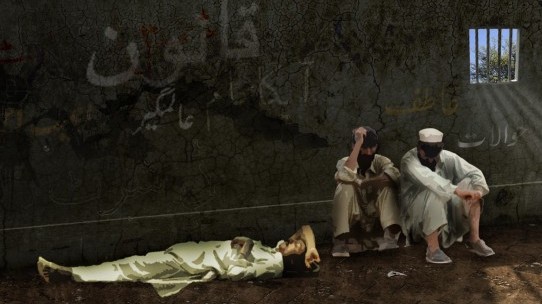 ---
KARACHI: A newly renovated juvenile ward at Sukkur Central Jail I has been emptied of its young offenders to make room for conjugal visits.

In May, the Sindh government decided to allow prisoners conjugal visits once every three months and it set aside Rs3 million for the construction of a new building for them. This building is supposed to have separate rooms, with attached bathrooms, to provide a comfortable environment for prisoners and their wives. However, the Sukkur jail administration, instead of constructing these new facilities, moved young prisoners out of their newly renovated juvenile ward and turned it into the one for conjugal visits.

The juvenile prisoners have been sent to Central Jail II, which has dilapidated barracks that are nearly 140 years old. They were not in use as their roof was on the brink of collapsing. Jail superintendent Qazi Nazir Ahmad confirmed that the juvenile ward will now be used as a meeting place for prisoners and their wives.

In answer to a question, he said that they took this decision on their own and not on any orders from the government. Out of the 17 young prisoners in the jail, 10 have been moved to the empty barracks in Central Jail II, while the remaining seven have been placed with dangerous criminals who belong to the same community, informed a manager for the Society for the Protection of the Rights of the Child (SPARC), Iqbal Detho.

SPARC had spent thousands of rupees building a separate ward for the juveniles because they felt that they were being mistreated by older prisoners. Detho told The Express Tribune that their organisation has been unsuccessfully trying to set up a Youthful Offenders Industrial School in Sukkur, similar to the one that already exists in Karachi and Hyderabad.

SPARC wrote the home secretary and IG police for an industrial school in Sukkur but they were instructed to "create an environment" first so that the government can consider the plan. SPARC then built four additional bathrooms in the separate barrack for juveniles and fixed the sewage system and electric fittings. It had planned to set up a library and an outdoor games facility before the jail administration moved the prisoners to another jail.

"The government is discriminatory towards young prisoners from the rest of Sindh because they are being kept in worse conditions than those in Karachi and Hyderabad," Detho said, adding that recently they discovered a 16-year-old prisoner in Khairpur jail where he was being kept with older prisoners. Several similar cases have been seen in Shikarpur and Larkana jails as well, he further said.

Juvenile jails are supposed to be run on the basis of the Sindh Children's Act 1955 but in Sindh the jail administration still enforces Prisoners Rule 1978, said Detho. According to the children's act, industrial schools do not fall under the jail administration, he added.
COMMENTS
Comments are moderated and generally will be posted if they are on-topic and not abusive.
For more information, please see our Comments FAQ