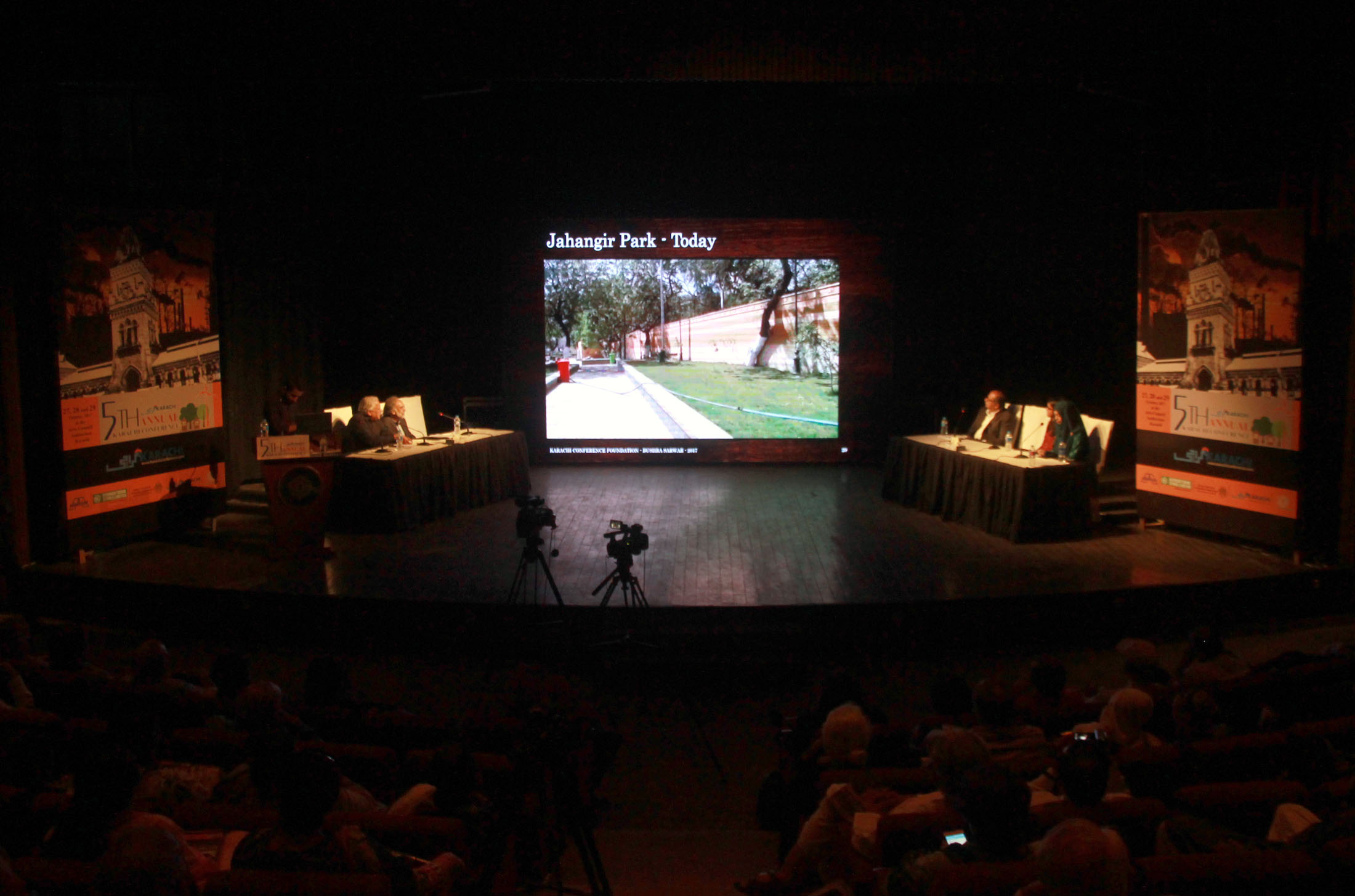 ---
KARACHI: The second day of the Karachi Conference focused on the city's contested identities, structures and the personalities that defined the significance of the cityscape.

The first talk by researcher and writer Aslam Khwaja, titled "Bandar Road par Taraqi-pasand Tanzeemon aur Afrad ke Dafatir,' described localities in Saddar, starting from Bandar Road to Light House where during post-independence, personalities such as IK Gujral held office, locations where Jihadi rebels met and the communist party of India also held offices. "The first women trade union office was set up there," said Khwaja.

He said that all those post-independence locations are in deteriorated conditions and locals pay no heed to the historical significance of the structures. "Ownership disputes are still going on while the government has failed to maintain a profile of the original owners."

Karachi, and its issues, not a new phenomenon

He suggested that the least the government could do was label those places or mark them as per historical importance to save them.
"Shrines add up to a quarter of total listed heritage," said Masooma Shakir, an architect and urban planner. She discussed the role of shrines as markers of Muslim history of a specific civilisation, the living heritage in some cases, with respect to attachment of communities, performance of rituals, linkages between shrine properties and lastly the functioning for new constructions.

She focused on three major shrines; the shrine of Shah Abdul Latif Bhitai, Data Darbar and the shrine of Abdullah Shah Ghazi. Her main focus was on Abdullah Shah Ghazi's mazaar which is going through renovation that has irked visitors to a great extent. When questioned about how the seekers - people who go to shrines- react to such major changes in the mausoleum, she said they reply positively saying "Thori takleef hai bus [Just a minor hindrance]."

Senate body hosts conference on Pakistan's 70 years

"Neither Jheeruck nor Wazir Mansion is the birth place of Mohammad Ali Jinnah," said former Sindh culture, tourism and antiquities department secretary and archaeologist Dr Kaleemullah Lashari. He added that the officially recognised place where Jinnah was born is called the Wazir Mansion but many are of the view that he was born in Jheeruck, a town famous in the 19th century.

He said that the government has labeled a room in the mansion 'room where Jinnah was born'. Lashari's discussion was based on an enquiry into official records that shatter this myth and focused on the textbooks that still glorify both Jheeruck and Wazir Mansion as the birth place of the country's founder.
"Jinnah's birthplace is a topic which fails to provide an appropriate answer," said Lashari. He quoted one of Jinnah's addresses from the Sindh Muslim League Conference held on October 8, 1938 in Karachi in which he said Karachi was his birthplace.

Karachi Conference to kick off on Friday

Lashari said that the Sindh government bought the mansion in 1953, declared it a heritage site and termed it Jinnah's birthplace, which was very late. He mentioned another narrative that arose in the 1950s from Jheeruck, where not one but many Sindhi language curriculum textbooks claimed that Jinnah was born in Jheeruck, not Karachi.

The topic of Jinnah's birthplace was also highlighted in the Sindh Assembly but no significant outcome came and, according to Lashari, "The uproar died its own death." All arguments died as different books had different references to the birthplace.

"Judging by Jinnah's school records, there is no consensus on his actual date of birth," he said. He added that well preserved records showed that none of Jinnah's family was remotely close to Jheeruck, hence the question of Jinnah's birthplace being Jheeruck should be disregarded completely.

Arch-enemies of Jinnah and Gandhi

According to Lashari, in the 1880, two houses and a double storey building were on the land on which Wazir Mansion was later built. A small two-storey structure next to that building was where Jinnah's family initially lived.

The final presentation was delivered on the restoration of The Dawood Foundation's (TDF) Ghar in Amil Colony by architect Madiha Ghani. In her presentation she spoke about the history of the house which was built in the 1930s and owned by a Hindu woman, Haniba Motiram, who later sold it to Hanifabai Haji Gani, who acquired it so that her daughter, Aisha Bai Dawood, could reside in it. In 1961, the house was donated to TDF for philanthropic and educational activities and in 1965 Ahmed Dawood established the Hanifa Hajiani

TDF Ghar offers Karachiites a unique place to socialise

Vocational Training Centre for Women. With time the training centre declined and was closed in 1991. This was followed by years of land grabbing, court cases and years of the building remaining vacant. "After a tedious lawsuit, the foundation claimed ownership of the house and started renovating it from September 2016 to reuse the magnificent structure," explained Ghani. She said that the TDF Ghar aims to promote informal learning spaces in Karachi, with a backdrop of the diverse and rich history of Karachi.
COMMENTS
Comments are moderated and generally will be posted if they are on-topic and not abusive.
For more information, please see our Comments FAQ