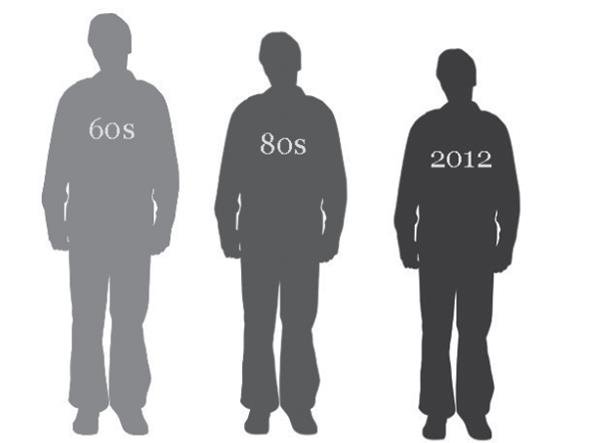 ---
KARACHI/LAHORE:
At just four feet and six inches, 14-year-old *Maya is far below the average height for her age. The girl's mother *Afia has gone from pillar to post to search for answers explaining her daughter's stunted growth.
Afia is not the only one worried about her daughter as the slow growth of children, especially in terms of height, is one of the main challenges faced by modern-day parents.
"I have two sons between 11 and 16 and they are tall for their age. It's only my daughter whose height seems to be stuck. I have visited several doctors and specialists with her, but nothing seems to be working at the moment," the mother says.
Nutritionist Moti Khan, who works at the Aga Khan University, Karachi, says a lot of parents come to them, literally with tears in their eyes. She says the slow growth weighs in heavily on the parents.
According to a research conducted by some students at the University of Agriculture, Faisalabad, a few years ago, the average height of Pakistanis has fallen by four inches over the last 50 years. This is mainly due to malnourishment and food deficiency.
Khan says there is a link between height and malnourishment, but family history is also a key component.
Bone health is one of the biggest issues in Pakistan due to the deficiency of Vitamin D. "The growth of height and bone continues till the age of 21, so there is no need to worry about it too much. All parents need to do is to take care of their diet and involve them in physical activities."
Talking to The Express Tribune, Dr Fauzia Waqar, who works a health system specialist at the department of specialised healthcare and medical education (SHC&Me) in Lahore, says that about 60% to 80% of the difference in height between individuals is determined by genetic factors, whereas 20 to 40% can be attributed to environmental effects, mainly nutrition.
When asked about the major causes of malnutrition, she reveals that on the account of the Nutritional Profile of Punjab, 34% of children under five years of age are underweight and 42% are stunted.
It was also estimated that only half the children (49%), aged between zero and five months, are exclusively breastfed (MICS, 2007–08).
Furthermore, micronutrient deficiencies in Punjab also indicate to an alarming situation, she says. The doctor adds Vitamin A deficiency reduces immune function and impairs eyesight. The practitioner continues that this condition affects 41.8% of women and 51.0% of children.
Moderate  and  severe  anemia,  resulting  in  part  from  iron  deficiency,  and  reducing the  flow  of oxygen from the lungs to the rest of the body, affects 49.3% of pregnant women in the province and 60.3% of children, says Dr Waqar. "Overall, there seems no major difference and improvement in nutrition indicators compared to national averages."
What helps growth?
Khan says a balanced intake of carbohydrates, fats, proteins, water, vitamins and minerals may need to be outlined by an expert. But this will work only if we have invested enough to educate our population to maintain a healthy life.
She adds that parents should encourage their children to eat natural healthy diet, which can never be a homemade burger or French fries. "Children should be given raw vegetables to eat as they have a lot of nutrition. Moreover, due to the trend of indoor activities, children remain confined to their homes and do not have enough exposure to the sun, which is a must for Vitamin D and bone growth.
"Children should be involved in activities during the day time between 10am till 12 noon and later from 3pm to 4pm. They should be motivated to play football, monkey bar games and basketball. These games help grow bones and height."
What govt is doing to deal with the issue?
Dr Waqar says keeping in view the threatening situation of nutrition indicators in Punjab, the government has decided to initiate a multi-sectoral strategy.
The Planning and Development Department of Punjab, while realising its role in tackling the grave issue of malnutrition, has formed a steering committee (SC) with representation of relevant sectors, including government departments and international development partners.
"A multi-pronged approach will be comprehensive, valuable and the most effective way to adopt both nutrition specific and nutrition sensitive interventions, involving all related sectors with their potential role." She continues that the effective implementation of multi-sectoral strategic intervention will certainly play a key role in reducing ever-escalating burden of malnutrition mainly and will also be helpful in improving the food-security indicators.
*Names changed to protect identity
COMMENTS (1)
Comments are moderated and generally will be posted if they are on-topic and not abusive.
For more information, please see our Comments FAQ