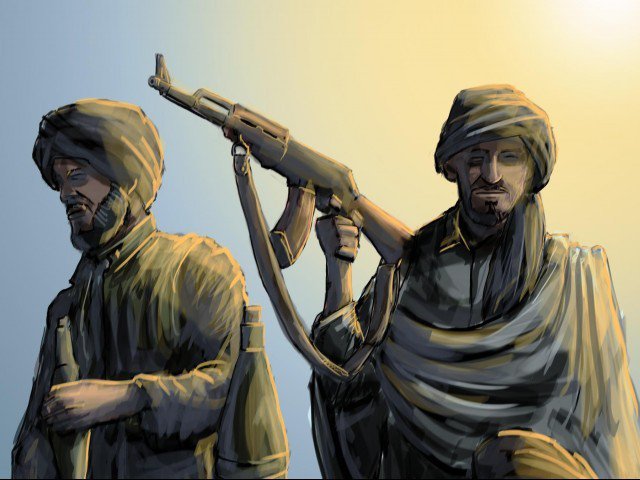 ---
The spectre of Haqqanis continues to haunt the United States and its proteges in Kabul. They believe the Haqqanis are stoking the spiral of deadly violence in Afghanistan -- and that the network has covert support from Pakistan -- a charge Islamabad vehemently denies.

However, in an interesting twist to the story, the Afghan media claimed on Friday that relations between Pakistan and the Haqqani network have strained in recent months.

Afghanistan's Khaama Press reported on the authority of "unnamed Pakistani and Afghan officials" that ties between Pakistan and the Haqqani network have started deteriorating after the United States stepped up pressure on Islamabad to act against alleged Taliban sanctuaries on its soil.

Pakistan offered US joint operation against Haqqanis: Khawaja Asif

In August, President Donald Trump unvield his strategy for Afghanistan and South Asia. In his policy speech, he criticised Pakistan for sheltering 'agents of chaos' -- a reference to the Afghan Taliban and their cohorts -- in 'safe havens' on its soil.

Islamabad has dismissed Trump's tirade and advised him to stop listening to his "failed generals" on Afghanistan who are reluctant to concede military defeat -- and instead seek advice from American politicians.

The security situation in Afghanistan is as volatile as ever with a resurgent Taliban targeting Afghan security forces at will. More than 200 people were killed in a string of suicide and gun attacks on Afghan security forces earlier this month.

According to Khaama Press, a Pakistani politician has confirmed to Gandhara that the relations between the Haqqanis and Pakistan have deteriorated.

Who are the Haqqanis, Afghanistan's most feared insurgents?

"Definitely there are strains in the relationship between Pakistan and the Haqqani network," the official said speaking on the condition of anonymity.

Quoting "interlocutors" in the Federally Administered Tribal Areas, the politician added that tensions between the Haqqanis and Islamabad was spurred by Pakistan's repositioning after Washington's demand to end militant sanctuaries on its territory.

Pakistan says it has dismantled all sanctuaries of terrorists and their command and control centre in Zarb-e-Azb, launched in 2014 in North Waziristan, the once stronghold of Taliban and their cohorts.

According to the politician who spoke to Khaama Press, the Haqqanis were also upset over Pakistan's recent rescue of a Canadian-American couple and their three children who they wanted to exchange for their imprisoned comrades.

Freed Canadian hostage claims Taliban killed infant daughter, raped wife

Pakistani Army, operating on intelligence provided by the United States, rescued Caitlan Coleman, her husband Joshua Boyle and their children soon after their captors, the Haqqanis, transported them from Afghanistan into Kurram Agency earlier this month.

An Afghan official also confirmed the reports of deteriorating relations.

Pakistan says it had ties with the Afghan Taliban in the past but that doesn't mean it is harbouring them on its soil.

"We are not saying that we are saints. Perhaps in the past we made some mistakes. But since the last three, four years we are whole-heartedly, single-mindedly ... targeting these terrorists," Foreign Minister Khawaja Asif said while speaking at an American think tank during his recent visit to the United States.

He also said that Pakistan's influence over the Afghan Taliban has diminished since a US drone strike killed the group's leader, Mullah Akhtar Mansoor, in May, last year, derailing talks aimed at bringing peace to Afghanistan.

Pakistan has said the drone strike in Balochistan that killed Mansoor was meant to sabotage the peace initiative of the Quardrilateral Coordination Group (QCG).

The quartet, which had been virtually dead since then, met earlier this month after a long hiatus in Oman's capital of Mascut, but the Taliban refused to join the process.

President Trump is seeking a military victory in the deadliest, costliest and longest war in American history. Pakistan, however, believes the use of military force could not end the conflict -- and that dialogue is the only way to restore peace in the war-ravaged country.