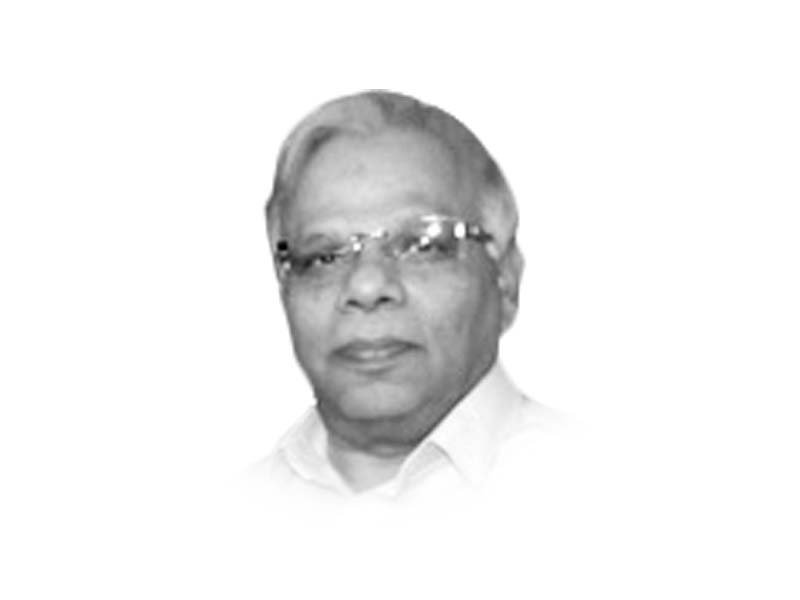 ---
Yet another interesting debate on the jurisdiction and competency of Pindi vs Isloo boys has been initiated. This time the spat began with Interior Minister Ahsan Iqbal questioning the military's jurisdiction and competency in commenting on the economic state of Pakistan. A comment by the director general of the Inter-Services Public Relations (ISPR) and the minister's outburst was being analysed against the backdrop of unfounded rumours of impending martial law and/or formation of a technocrat government — which were flatly denied by the DG ISPR. The government did not appreciate the military's comments though the minister was careful not to mention either the chief of army staff or the army or military; he chose to focus his ire on the DG ISPR personally.

The government may have taken it as criticism which inter alia diminishes the credibility of Ishaq Dar's self-claimed divine-gifted economic prowess. Since then, both sides have luckily lowered their ante and expressed the need for a unified national agenda. However, the question raised regarding the military's jurisdiction and competency to comment on economic issues was not addressed nor agreed upon by either side — though Prime Minister Shahid Khaqan Abbasi wisely acknowledged the military's right to comment on the economy.

It is perhaps for this reason that the jury is out in the social media ranging from one group claiming that there are economic problems in many countries but their military never commented on the state of economy to the group which claimed Dar borrowed tons of foreign loans without even informing his ministerial colleagues, let alone the people or parliament of Pakistan. It is of course implied by them that most of these amounts have been usurped and corruptly siphoned off. Thus, there are advocates of not only the military's right to comment but to intervene and those who see the military's interference in civilian matters as the mother of all evils. Regardless of what the right answer may be in the generic global sense, this question assumes special dynamics in the context of Pakistan where military takeovers are hardly unusual.

The civilian leadership may fear the military using the excuse of weak economic performance to replace them with a government of their liking particularly when their leader, Nawaz Sharif, has been ousted and he and his family are facing indictment and arrest over corruption cases. Thus, in Pakistan, the Pindi-Islamabad relations have been quite unique and is a major determinant on who forms and runs the government.

A foreign journalist once asked about Islamabad quipped that it is around 25 kilometres from Pakistan. Others had similarly calculated the distance between Islamabad and Pindi in terms of a time gap. This debate seems to measure the distance in terms of a wisdom gap as well.

The military's competency to comment on the economy can be justified at least in the Pakistani context as (i) the economy is an important, if not crucial, instrument of statecraft and one of the main determinants of national power which the army handled in Pakistan for 32 years.
(ii) there is a link between economic development and security aptly described by a whizz-kid who had the unique experience of being both the US defence secretary and World Bank president, Robert McNamara, who noted: "Security is not military hardware, though it may include it, security is not military force, though it may involve it, security is not traditional military activity, though it may encompass it. Security is development and without development there can be no security." (iii) the military's budget depends on the state of the economy. This right is often justified on the ground that the track record of military rulers' economic performance is better than their civilian brothers. Is this really a fact? And if it is, does it automatically grant the right to the military to comment on the economy even if the competency is established? This article attempts to analyse whether the economy performed better under the khakis to justify their competency to comment on it.

Economic performance of course depends on many exogenous and endogenous factors and pressures and there are many different ways of measuring performance. However, for this article only four indicators will be used for comparing the performance of each military and civilian regime. These are GDP growth, rupee-dollar rate, public debt and fiscal discipline though there are many more important indicators like structural reforms, infrastructure development, water, power and energy, CPEC, investments, FDI, trade, etc. These four indicators have been selected as these are generally debated by Pakistanis when it comes to evaluating civil-military performance in economic terms. An obvious exclusion of an important indicator, ie, taxation/revenue can be easily explained by the fact that this has been a disappointing action by both military and civilian regimes as taxation to GDP has always been lower than 12-13% of GDP and at most times being at single digit only.

Similarly a possible looming crisis due to current account deficit is not considered here as it has a cumulative result of both civilian and military rulers' policies, for example, the large current account deficit is a result of the large trade deficit as a consequence of PM Shaukat Aziz under military rule's policy of import liberalisation at the cost of manufacturing and his anti-export bias and the current PML-N policies of anti-manufacturing bias.

It may however be noted at the outset that regardless of who performed relatively better, unfortunately Pakistan's economic performance overall has been a disappointment compared to its potential. It started off pretty good despite all the odds and by early '60s, it was considered a showcase model for developing countries, it being the second largest trading partner of Japan (with Jetro's second office being in Karachi after New York), Habib Bank Plaza being the tallest building in Asia except for Tokyo and Osaka and PIA being the second-best inflight entertaining flight after PanAm.

Pakistan's GDP growth rate in the 60s was much higher than India and China and its economy was larger than South Korea and Malaysia. Pakistan's steam started slowing down from the '70s while the other countries performed better. While China took the lead from Pakistan in 1970, it would take India at least another 15 years before surpassing Pakistan's growth rates. But by the '90s India was blessed by Manmohan Singh's economic miracle while Pakistan experienced a corrupt, bitter and confused civilian leadership bent on reversing the previous government's policies and/or follies after a decade of disastrous military dictatorship with long-term adverse security and social consequences. At one time the expertise of Pakistani bankers, engineers, planners, managers and doctors was acknowledged globally.

Pakistan's nominal GDP was larger than South Korea and Malaysia in the '60s and '70s but by the '80s it was left behind by both countries. Since then, however, South Korea has jumped into another league.

To be concluded 

Published in The Express Tribune, October 28th, 2017.

Like Opinion & Editorial on Facebook, follow @ETOpEd on Twitter to receive all updates on all our daily pieces.