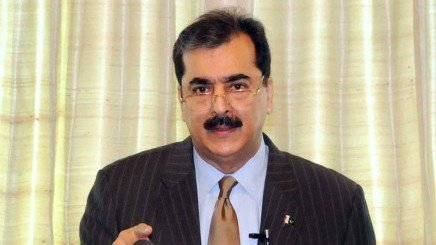 ---
ISLAMABAD: Prime Minister Yousaf Raza Gilani said on Saturday he had told Chief Justice Iftikhar Mohammad Chaudhry on the phone that the government "respects the judiciary and will honour its decisions".

"I told him that action with regard to Swiss cases will be taken according to the law and constitution," the premier said while speaking at the inauguration ceremony of the Expo Centre in Lahore's Jauhar Town. In what appeared to be an oblique reference to the judiciary, the prime minister also said that every institution should work within its prescribed limits. He said the government was aware of the problems faced by the people and relief will be provided to them in the forthcoming budget.

He added that the government will take all possible steps to fortify the country's defence as it was aware of the security situation in the region. Replying to a question, the PM said the Pakistan People's Party government will not let the democratic system derail. "We will adhere to the charter of democracy agreed between the late Benazir Bhutto and Nawaz Sharif and work jointly for the cause of democracy," he said. He said General Musharraf "will not dare come back to Pakistan" as a case of Bugti's murder was instituted against him. He said the judiciary had also made sacrifices for the restoration of democracy and, therefore, it cared about its continuity.

All institutions, including the judiciary, parliament and media, are in an evolutionary process and it will take them some time to realise their respective jurisdictions. He parried a question about Swiss cases asked by a reporter by posing a counter-query: "Will journalists want the Swiss cases to be reopened?" Later, addressing the Expo Centre's opening ceremony, he said "it is a great honour for Lahore as it will become a business hub in times to come" and will "prove to be a landmark for growth of commerce and industry".

He said, "This is an era of mutual trade and I will emphasise on increasing the volume of mutual trade and investment during my visit to the European Union." He said he was conscious that industrialists were facing difficulties because of power cuts. "To solve this problem we have devised the energy saving plan in cooperation with all four provinces and the energy so saved is being provided to the industry." Acknowledging that the Punjab government also contributed to the establishment of the Expo Centre, he said, "Such cooperation should continue in the future, and Expo Centres in Faisalabad and other cities should also come up in the similar fashion."

Strict security arrangements were made during the visit of the prime minister to Lahore.
COMMENTS
Comments are moderated and generally will be posted if they are on-topic and not abusive.
For more information, please see our Comments FAQ