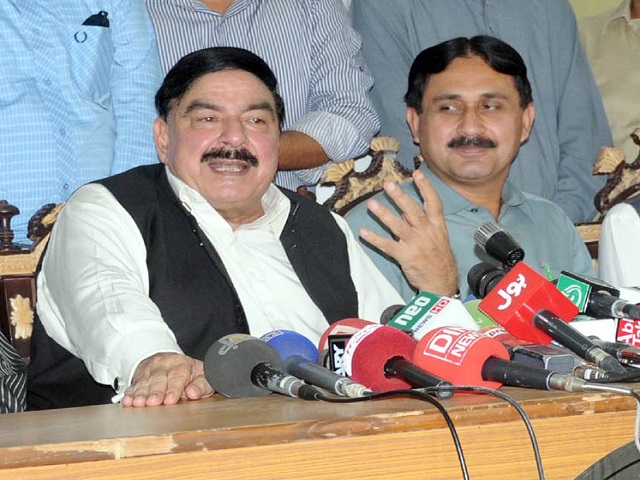 ---
Awami Muslim League (AML) chief Sheikh Rasheed Ahmed has claimed that more than 60 lawmakers were all set to part ways with the ruling Pakistan Muslim League-Nawaz (PML-N).

Speaking at a joint press conference with MNA Jamshed Dasti in Multan on Wednesday, the AML leader said deposed prime minister Nawaz Sharif's party members were not happy with the policy of confrontation with the state institutions.

"Of these around 60 members of the National Assembly – 20 to 25 belong to the impoverished southern Punjab region."

Nullifying disqualification: AML challenges Election Act, 2017 in apex court

Rasheed said today the word "Na Ahel" (disqualified) precedes  Sharif's name throughout the world.

"No country had opposed Nawaz Sharif's ouster [as the prime minister]… only Nawaz Sharif kept on asking 'Mujhay Kyun Nikala' [Why I was ousted]," he added.

Rasheed said the deposed premier did not even allow his younger brother, Punjab Chief Minister Shehbaz Sharif, to head the party despite being disqualified from becoming a parliamentarian.

The biggest conspiracy against democracy, the AML chief said, were 'five families', adding that Shehbaz Sharif's Hudaibiya Paper Mills case was the 'mother of all crimes', which if opened will sink the Sharif family.

Sheikh Rashid approaches SC to reopen Hudaibiya Paper Mills scam

Rasheed went on to say the country was destroyed economically as Finance Minister Ishaq Dar has practically shelved the ministry, adding that Prime Minister Shahid Khaqan Abbasi was looking for a new finance minister.

He vowed to reveal more 'important news' in the upcoming Muzaffargarh and Multan rallies.
COMMENTS
Comments are moderated and generally will be posted if they are on-topic and not abusive.
For more information, please see our Comments FAQ