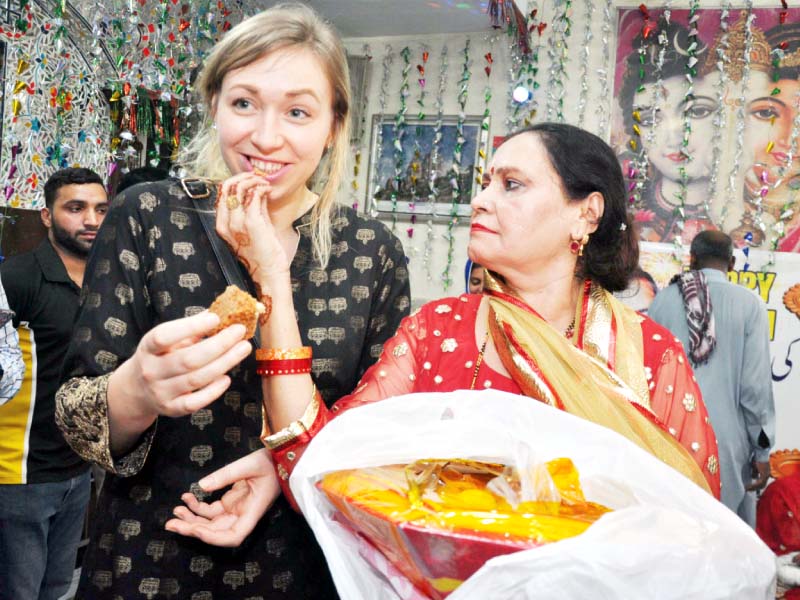 ---
LAHORE: The skies of Lahore were alight as members of the Hindu community celebrated Diwali, an annual festival that falls in autumn.

They offered special prayers and set off fireworks aplenty on Thursday. The main Diwali event was organised at Krishna Mandir, which was attended by hundreds of citizens belonging to the Hindu, Christian and Muslim faiths. The aim was to show that harmony existed among people from various religions.

Hindus celebrate Diwali in K-P 

Speaking to The Express Tribune, Pandit Bhagat Lal said Diwali or Deepavali is a Sanskrit word meaning 'rows of lighted lamps'. "It is one of the most famous festivals celebrated by the Hindu community across the world. People light candles and mud lamps (diya) just to symbolise the triumph of good over evil," he added.

"According to Ramayana and Geeta," he said, "Rama and Hanuman defeated Ravana, who had kidnapped Sita (Rama's wife) while the couple was living in exile in a forest.

Ravana took her with him to his kingdom (lanka). They killed Ravana and burnt his kingdom to the ground. When they returned to their village, people welcomed them with rows of oil lamps and celebrated the death of Ravana with fireworks. It symbolises the belief that good will always triumph over evil."

He said Hindus around the world celebrated Diwali in remembrance of Rama's victory over Ravana, sin and evil. "Hindus prepare for the festival by cleaning and decorating their homes. On the night of celebrations, they wear new clothes and take part in family puja or prayers to Lakshmi," he said.

Addressing the main Diwali event held at Krishna Mandir, Evacuee Trust Property Board Chairman Siddiqul Farooq congratulated the Hindu community. He said Diwali was an event of spreading light and love. "It symbolises end of evil, sins and hatred."

He highlighted that Hindus and other minorities had complete religious freedom in Pakistan. He said additional rooms were being built in Katas Raj Mandir in Chakwal, while renovation was done to Krishana Mandir, Rawalpindi, Bari Mandir, Peshawar and Sadhu Bella Mandir, Sukkur.

New Delhi shuts power plant in fight against Diwali smog

"This year, Hindu pilgrims coming from India and other parts of the country will experience positive changes in their places of worship," he said. Farooq also cut the Diwali cake with Hindu community leaders and expressed his well wishes to the community and minorities in general.

Hindu leader Dr Manohar Chand appreciated the government and Evacuee Trust Board for renovating minorities' temples and religious monuments. Krishna Mandir was illuminated with beautiful lights. Prayers were offered for the peace and prosperity of Pakistan.

Published in The Express Tribune, October 20th, 2017.
COMMENTS
Comments are moderated and generally will be posted if they are on-topic and not abusive.
For more information, please see our Comments FAQ