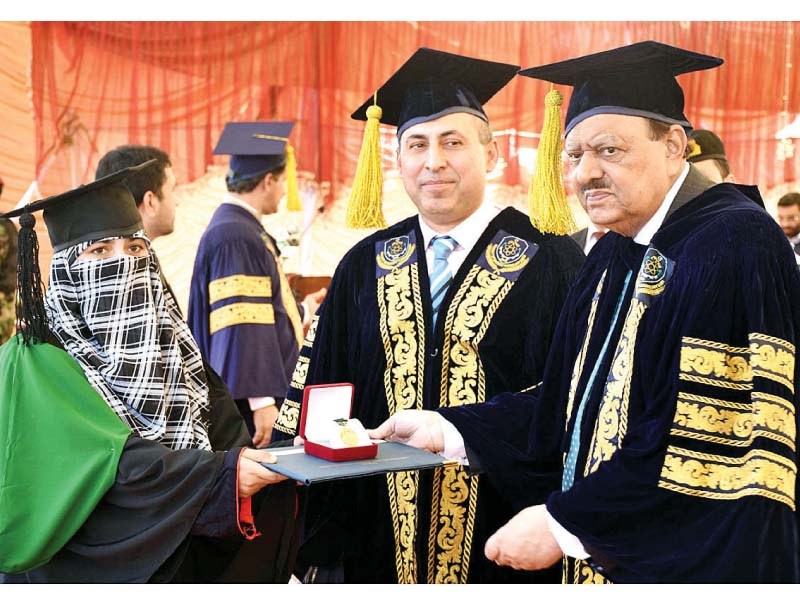 ---
PESHAWAR: President Mamnoon Hussain on Wednesday said that political stability was a critical prerequisite for sustainable economic progress, development, prosperity and promotion of quality education especially in the field of science and technology.

Mamnoon was addressing the second convocation of the University of Science and Technology in Bannu (USTB) where he conferred degrees and gold medals to 117 students and position holders.

The president also inaugurated three projects including the Women University of Science and Technology (WUST), Students Startup Business Centre (SSBC) at the University of Science and Technology and the Human Resource Development Centre (HRDC).

Mamnoon said that political stability was key for a stable economy and hence sustained economic development and business growth.

In that regard, he noted that the economy, despite some recent questions raised, was largely moving in the right direction with the country's reserves touching the $20 billion mark. Moreover, he added that around $10 billion in loans have been returned with around $5 billion remaining.

Terming the China-Pakistan Economic Corridor (CPEC ) as a 'lifeline project' for Pakistan which promised a host of job prospects for the youth, Mamnoon said that students must prepare themselves to take advantage of this opportunity.

He added that CPEC would make Pakistan a very important country in the region besides bolstering trade and industrialisation in the country by connecting the people and states of the region.

But to capitalize on this, he stressed, educational institutes and universities must equip students with the latest technologies and engineering methods to take advantage.

With CPEC, he said, not only Pakistan and China would benefit, but also help promote industrialization, business in the entire region besides bringing positive changes to our socio-economic attitudes in the region.

"We should all work together tirelessly in our respective selected professions to take the country to new heights of glory and economic prosperity," Mamnoon said.

"Being a Muslim, our learning traditions have remained outstanding in the world and we need to focus on science and technology to retain our past glory."

To develop the country, the president said, "We need to focus on science and technology; promotion of vocational education and role of USTB for spreading quality education among students in this sensitive and remote region was highly commendable."

Apart from the fact that education helped create employment opportunities, alleviate poverty and remove economic imbalances, it also helped tackle militancy and terrorism and urged universities to equip students with the quality education to meet future challenges. But for this, universities would need to improve the standard of education they impart, he stressed.

Mamnoon assured that USTB women campus would be upgraded to the status of a full university in the future.

Khyber-Pakhtunkhwa Governor Iqbal Zafar Jhagra in his address asked students to concentrate on their studies; develop knowledge up to the desired level and enable themselves to apply their capabilities for development and prosperity of the nation.

"This is the best way for them to serve the country and for their own betterment as well," he added.

Noting that Bannu bears historical significance for economic, trade and business, the completion of CPEC would bring tremendous advancement in the area.

"This area has been an international trade route for centuries and its importance with the passage of time will increase further," he said.

He revealed that of the four industrial estates envisaged for the Federally Administered Tribal Areas (Fata), one will be developed along the Bannu-Miranshah Road.

WITH ADDITIONAL INPUT FROM APP

Published in The Express Tribune, October 19th, 2017.