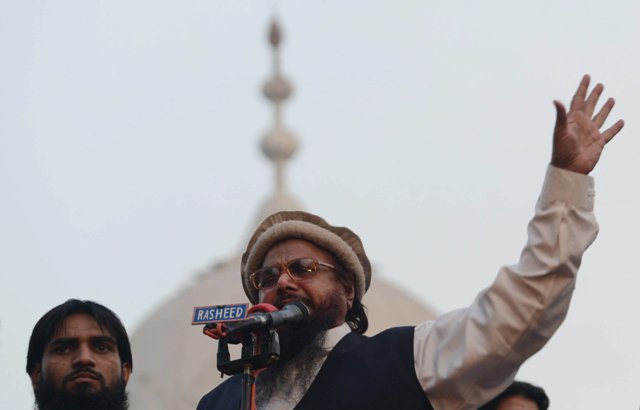 ---
LAHORE: A provincial Judicial Review Board headed by Justice Muhammad Yawar Ali of the Lahore High Court (LHC) on Tuesday asked the interior and foreign secretaries to appear before it along with details relating to the detention of Jamaat-ud Dawa (JuD) chief Hafiz Saeed and his four aides.

Saeed, Prof Zafar Iqbal, Mufti Abdur Rehman Abid, Maulana Ubaidullah Obaid and Qazi Kashif Niaz appeared before the board.

Strict security arrangements had been in place on the occasion and even media-persons were barred from visiting the courtroom. Supporters of the JuD chanted slogans and showered rose petals on their leaders when they entered the high court premises.

BRICS summit: LeT, JeM 'threat to regional peace'

Abdul Sattar Sahil, a law officer, appeared before the court on behalf of the Punjab Home Department and said the United Nations had banned the JuD, and the provincial authorities had detained its chief and his companions on the instructions of the federal government. He said Saeed's release might create law and order problems.

Saeed's counsel said the Punjab government had filed an application before the Federal Review Board for the detention but withdrawn a request for its extension apparently after feeling that its stance was unsatisfactory. He said the fresh detention order had been issued under the Maintenance of Public Order of 1960, alleging that the detention was based on mala fide intention.

Regarding the law officer's contention that a UN resolution was being implemented, Saeed's counsel said the Supreme Court and the LHC had declared, through several judgments, that Pakistan is a sovereign and independent state and local laws should apply to its citizens.

He said there was no FIR against any member of the JuD and the fear of law and order problems because of the detained men's release was unfounded. He claimed that the government had not presented any concrete evidence against his clients "who have been detained because of pressure from Indian and American lobbies".

JuD launches political party to contest upcoming polls

When the law officer said the views of the interior and foreign secretaries should also be heard, the board issued directives for them to appear before it with details about the detention of Saeed and other members of his organisation. The proceedings were adjourned till Thursday.

Saeed and his four companions have been in detention since January 30 on the federal government's instructions to the province in this regard. They have challenged their detention in the LHC, terming it a violation of their rights.