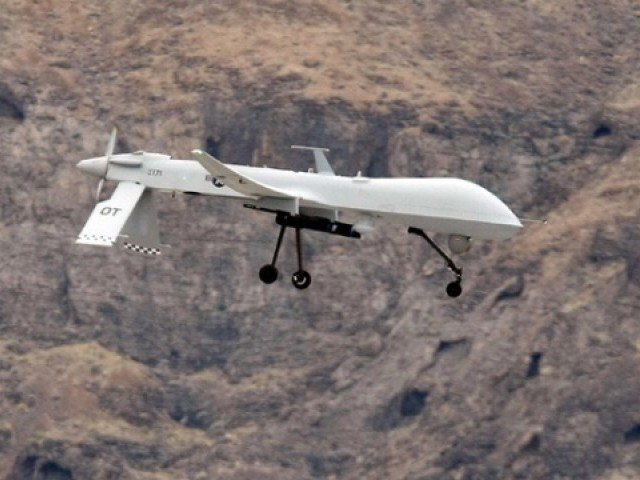 ---
PESHAWAR: A house in Maqbal near the Pak-Afghan border was on Monday blown up in what is being called a drone attack.

At least five suspected militants were killed in the attack at the house on zero-point near Lower Kurram Agency. One of the dead was identified by local officials as militant commander Sangeen Wali Shah.

Local sources, however, put the death toll far higher, claiming that at least 17 people were killed in the strike. No official confirmation was available for the double-digit toll. The sources added that the house which had been struck belonged to one Saeed Karim.

Senior Haqqani aide taken out in US drone strike

Sources in the area said that three drones were hovering in the sky before they fired at least six missiles.

A security official, however, denied that any strike had taken place inside the Pakistani territory, adding that at around 5:37pm, an air strike by a manned aircraft was reported from inside the Afghan territory along the Kurram border. About 10 minutes later, another air strike was reported in the Afghan area opposite Lower Kurram, the source said. There was no strike inside Pakistan, he reiterated, adding that the sounds of the air strikes were audible in the Pakistani territory.

Conflicting reports

Foreign media reported that the target of the strike was Abu Bakar, a Haqqani network commander.

If proven true, it would be the second such strike since US President Donald Trump's August speech in which he accused Pakistan of offering "safe havens" to extremists.

An attack in the same region in September left three people dead and two wounded.

"Five people have been killed in a drone strike on a suspected militant's house," an intelligence source told AFP.

'No safe haven': Pakistan rejects US report on Taliban, Haqqani network

The use of US drones has dwindled dramatically in recent years in Pakistan, where the strikes have proven extremely controversial with the public and rights groups.

But the US is believed to have ordered at least two other drone attacks this year.

The first under Trump killed two men riding a motorbike in Kurram in March, while the second one reportedly occurred in late April in North Waziristan.

In a major speech outlining US policy on Afghanistan in August, Trump attacked Pakistan for sheltering "agents of chaos" and suggested ties with Islamabad would be adjusted immediately, but offered few details.

Much of Washington's anger has been directed at the Haqqani network – based in the border areas between Pakistan and Afghanistan – which the Pentagon has long accused of having ties to Pakistan.

Islamabad has repeatedly denied claims of being soft on militancy, accusing the US of ignoring the thousands of Pakistanis who have been killed and the billions spent in fighting extremists.