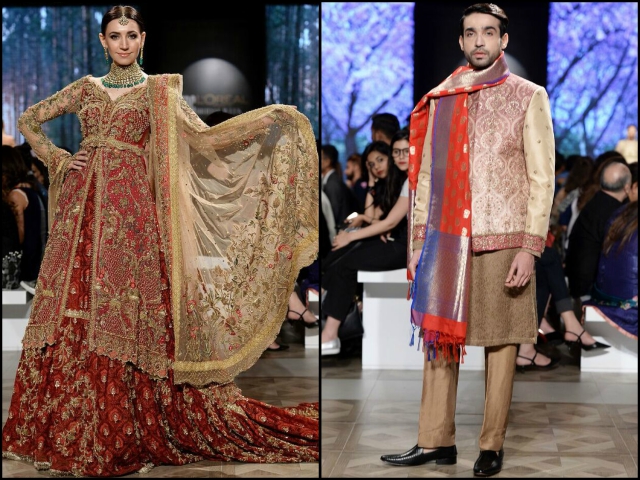 ---
LAHORE: Lahore is once again played host to the seventh PFDC L'Oreal Paris Bridal Week this weekend. The fashion extravaganza showcased the latest bridal couture collections by some of the most celebrated designers of Pakistan and as always, was an elaborate affair.

The country's top modelling talent sashayed down the runway in glamorous ensembles, boasting an array of colours, from soothing pastels to strikingly vivid shades. Here is a quick low-down of everything that made an impression on day one.

Designer: Reama Malik

Collection: Gold

In a first, hijab designer stuns New York Fashion Week

Renowned jeweller Reama Malik opened the fashion event with her exquisite jewellery collection - crafted in collaboration with Wasim Khan. Both, Gold by Reama Malik and Wasim Khan are known for their opulent creations, which focus on sparkle and extravagance. It was therefore, no surprise that the two design houses joined forces and delivered a dream show.




The assortment presented timeless, bespoke pieces for the discerning bride who wishes to stand out and not merge with the rest. The collection had a heirloom kind of feel: traditional and statement-making. Pure gold and diamond polki designs set the tone. Emeralds, rubies, tourmaline, pearls and diamonds were set in beautifully crafted pieces. Reama designed the gold items, reinventing the bygone eras.




Dressed in a red raw silk ensemble, film star Resham walked the ramp as the showstopper, sporting a stunning gold belt, gold necklaces and maatha patti.




Designer: Shamsha Hashwani

Collection: Kolpona - A Gateway to Nostalgia

Shamsha Hashwani showcased her bridal collection Kolpona: A Gateway to Nostalgia in collaboration with Sherezad Jewellery. Kolpona – meaning fantasy in Bengali – was an ode to Bengal's rich culture, art, history and colonial influence. It comprised 16 bright pieces that incorporated fabrics such as jamawaar, organza, net, charmeuse silk and chiffon.




The festive collection boasted intricately textural embroidery techniques like zardozi and hand-made organza petals highlighted with beadwork, pearls and 3D embroidery. The colour palette had shades of violet, plum, opal blue, ruby red and a hint of ivory. Overall, Kolpona was an eclectic mix of classic and modern silhouettes, including deep halter-cut cholis paired with lehngas, farshi ghararas and classic saris.




Contemporary silhouettes included flowing kaftans, jumpsuits and floor-kissing dresses. Bol star Humaima Malick was the showstopper and she donned an ivory and gold heavily embellished long trail dress.




Designer: Shiza Hassan

Collection: Aroos e Shehnai

Shiza Hassan in all her simmering glory most certainly made a distinctive mark. For many who consider anything 'desi' a bit outdated, Shiza's designs are a gentle nudge to change that perception.

This was Shiza Hassan's second year showcasing her bridal collection on the ramp. Aroos e Shehnai- Chapter II was a depiction of contemporary couture with a Persian twist.




Shiza utilised shades of mint green, ice blue and peaches with gold and crimson. The collection was a combination of the traditional and the modern, heavily embellished with glittering Swarovski crystals and kamdani on rich fabrics such as tissue and velvet.




The patterns in Aroos e Shehnai were inspired from the days of the Persian era, paying tribute to their heritage. Embroidered trousers, lehngas and embellished dupattas were a dominant part of the collection.




Designer: Ali Xeeshan Theatre Studio

Collection: Lasting Loyalty

Bollywood stars ooze glamour on the Lakmé Fashion Week ramp

The day one finale saw Ali Xeeshan Theatre Studio showcase a one-of-a-kind bridal collection called Lasting Loyalty. As expected, it was hypnotic to watch Ali bring unimaginable design techniques to the ramp each time. The life-size portraits of models that the designer calls his muses were brought onto the ramps and painted exactly how the models had been styled for the show. Some of them wore oversized spectacles to add a touch of gothic glamour.




Lasting Loyalty was based on luxe fabrics such as organza and raw silk and featured tilla-work, pearls, naqshi, pasham, as well as various old-school techniques. The colour palette included ivory, warm yellow, deep ruby, bright pink and purple.  The collection entailed a variation of lehngas, skirts and dresses across the range of twenty-four designs. Film-maker and ace photographer Abdullah Haris also walked the ramp for Ali.




Ali's ensembles had gorgeous multi-coloured shimmering, heavily embellished skirts and lehngas paired with cholis and net dupattas that were basically the highlight of the collection which also included sharply cut menswear line.


Have something to add to the story? Share it in the comments below.
COMMENTS
Comments are moderated and generally will be posted if they are on-topic and not abusive.
For more information, please see our Comments FAQ