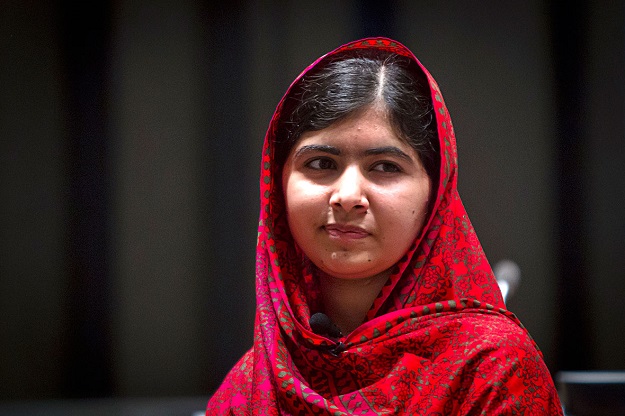 ---
Renowned activist for women education Malala Yousafzai has successfully been accepted to Oxford University for undergraduate studies after acquiring her A-level result.

Yousafzai recently commenced her studies at the prestigious Oxford University - five years from the day that she was shot by the Taliban for campaigning for girls' education.

Poster of Malala Yousafzai's biopic 'Gul Makai' unveiled

The Nobel Peace Prize laureate tweeted last week, saying, "5 years ago, I was shot in an attempt to stop me from speaking out for girls' education. Today, I attend my first lectures at Oxford."


5 years ago, I was shot in an attempt to stop me from speaking out for girls' education. Today, I attend my first lectures at Oxford. pic.twitter.com/sXGnpU1KWQ

— Malala (@Malala) October 9, 2017


However, all hell broke lose when the 2o-year-old  was spotted wearing a jeans and top with her head covered with a dupatta.


and here is the new topic for Pakistanis #Malala pic.twitter.com/bxZO88L1c0

— اَحمد🐨 (@twit_bruh) October 15, 2017


Some bashed Malala for her 'shocking' choice of wardrobe.


At "Oxford" bravo @Malala pic.twitter.com/eTqoGDN0Ep

— احمد حکیم (@shepherd881) October 15, 2017
want a nobel prize and getting admission into Oxford University? Step 1: get shot :P #MalalaYousafzai. so much for women rights advocacy lol

— Byhram Khan (@byhramkhan) October 10, 2017


https://twitter.com/Waqas6671/status/919643328358035456


#Malala
Future President!
Future PrimeMinister!
Future COAS!
The complete package being groomed by the West and coming to Pakistan SOON!!! pic.twitter.com/1iXEn7qdCV

— Sadaf Khan Nawaid (@sadafnawaid) October 15, 2017


https://twitter.com/Murad2008/status/919551390397222913


@Malala look at this stupid #Malala say I love Pakistan & enjoy life in USA #ShameMalala pic.twitter.com/XfyEWFZQk8

— Muhammad Shehzad Ashraf Khan (@ShehzadAshraf5) October 15, 2017


While some went as low as calling her a foreign conspiracy once again, merely on her dressing, others came out in her support.


What #Malala wore in UK, is pretty common in Pakistan as well. Stop creating a fuss about it. Let others live their life, at least fir once.

— Arsalan Ahmed Jaraal (@arsalanjaraal) October 15, 2017
Ok now our nation is busy in making silly comments on #Malala 's dressing.! Live and let others live. Please get a life.!

— Ayesha A. (@DrAyeshaAshfaq) October 15, 2017


https://twitter.com/SaadKaiser/status/919679026289086464


If you are going to bash #Malala , might as well stay quiet. Nobody wants to hear your verbal diarrhoea.

— Raabya (@RaabyaZahidKhan) October 15, 2017


What makes us scratch our heads is the fact that a woman is still judged on her wardrobe in this time and age.

Have something to add to the story? Share it in the comments below.