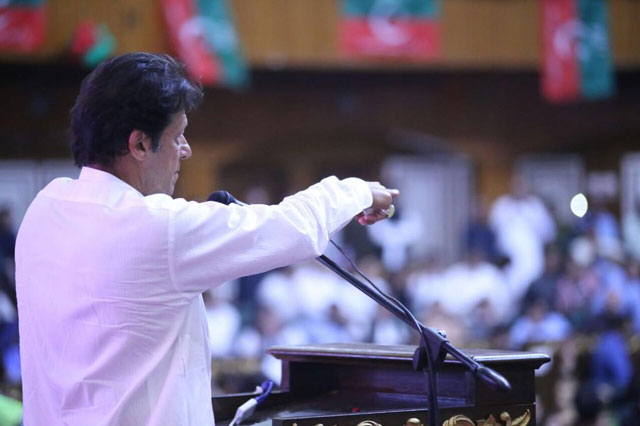 ---
Pakistan Tehreek-e-Insaf (PTI) chief Imran Khan announced on Sunday that if voted to power, his party would follow China's economic model rather than "flawed capitalist liberal economic policies" to counter the prevailing financial crisis and end poverty.

Promising his party's all-out support to the army and judiciary, Khan also cautioned that if the ruling Pakistan Muslim League-Nawaz (PML-N) continued to "conspire to obstruct justice and malign state institutions", his party would launch a "final round of street agitation".

Addressing a PTI membership convention, he stressed the need of introducing a culture of meritocracy and rule of law and a war on poverty to make Pakistan a welfare and prosperous state.

The PTI chief said the country was fast advancing towards chaos because of the confrontational attitude of the Sharif family.

We will take to streets yet again, warns Imran

"The PML-N is deliberately attacking the army in a bid to provoke it to derail democracy. But the army has clarified that it will stand by the Constitution and law of the land," he said.

He said all efforts of the rulers were aimed at avoiding conviction in pending references related to the Panamagate case. "In case of conviction their property and ill-gotten money stashed abroad will be seized – a situation the Sharifs are trying to avoid at any cost; even at the cost of derailment of democracy." He said this policy was evident from former prime minister Nawaz Sharif's announcement during his GT Road rallies of a revolt against state institutions, followed by his and PML-N ministers' targeted statements against the army.

"They (PML-N) always turn against all those institutions that refuse to hide their corruption and that complete their work in accordance with the law. Everyone knows the ISI and MI representatives in the Joint Investigation Team completed their work efficiently without giving any undue favour to the Sharifs. That's why they are now against their own army," he alleged.

PM Abbasi busy saving Sharif's skin, says Imran

The PTI chief criticised Interior Minister Ahsan Iqbal and dubbed him a 'pseudo-intellectual' who had started his political career from gatherings where dictator General Ziaul Haq used to be in attendance. He also alleged that the PML-N had taken money from the ISI and Al Qaeda chief Osama bin Laden to oust the government of the late Benazir Bhutto.

"I proudly state that I stand by the country's armed forces, as it's our army and our institution," Khan said.

Concluding his speech, he said he foresaw another movement on the streets and this time the PTI would bring people to Islamabad in unprecedented numbers. "Justice does not mean that you steal Rs300 billion of Pakistanis and appear before the court with an expression like you have won the battle of Kashmir," he said.

Khan announced that if it came to power, his party would abandon enforced liberal economic policies and follow China's economic policies to pull millions of Pakistanis out of poverty.

"I recently met the Chinese ambassador and a PTI delegation will soon visit China to study their economic model," Khan said.

"Our vision about economy is simple. China has lifted tens of millions of people out of poverty. The capitalist liberal economic model which Pakistan follows has widened the gulf between the rich and poor. China's model is similar to the model followed by first Islamic state of Madina," he said.

Imran Khan claimed that the PTI was the most popular party of the country because it was following in the footprints of Quaid-e-Azam Muhammad Ali Jinnah who had dreamt of an Islamic welfare state. "The PTI has changed the political culture of Pakistan."

He said Pakistan's best talent was serving foreign countries because of the adverse circumstances in the country. He alleged that former president Asif Zardari and former prime minister Nawaz Sharif believed in appointing their cronies and corrupt people to head state institutions to help protect their corruption.