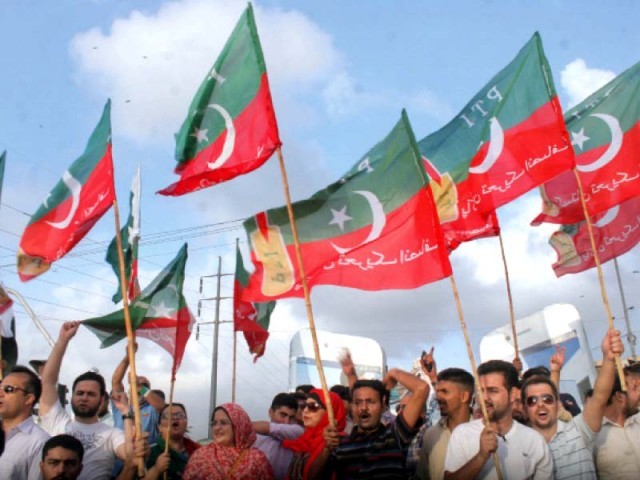 ---
PESHAWAR: Khyber-Pakhtunkhwa Information Minister Shah Farman said on Thursday the main aim of the Pakistan Tehreek-e-Insaf (PTI) is to protect Pakistan's physical, ideological and religious borders.

Farman condemned the PML-N Punjab Law Minister Rana Sanaullah for calling Ahmadis his brothers.

PML-N's Capt Safdar seeks ban on hiring Ahmadis in military and judiciary

While addressing a joint press conference in Peshawar, Farman said that PML-N leadership labelled PTI as agents of the Jewish lobby, while their own provincial minister has called Ahmadi community as Muslim.

Not only from religious point of view but also by an act of parliament, these people had been declared non-Muslims by the popularly elected assembly in 1973 under Zulfikar Ali Bhutto after prolonged debates that brought forth the true face of the Ahmadi thought before the public representatives, he said.

"Sanaullah has violated the 1973 Constitution, which has declared Ahmadi community as non-Muslims," Farman said.

JUI-F and PML-N  knew that by constitution the Ahmadi has been termed as non-Muslims, so why they are hurting the majority for the pleasure of minority in the country, said the provincial information minister.

"We are against PML-N designs for amending the law of the country to facilitate those who are barred by the law of the land from taking part in elections and holding public office," the information minister said.

PTI would oppose any such amendment on every forum of the country, Farman said.

NA-4 by-polls

The K-P information said that PM's adviser Engr Ameer Muqam was using his office for influencing the NA-4 by-elections, which was pre-poll rigging. Muqam was using funds and federal resources for gaining desired results in the upcoming by-polls, Farman added.

He said that election commission should take notice of Muqam's presence in public gathering for supporting his candidate and also taking part in party meeting PML-N K-P chapter.

PM to seek 'explanation' from Capt Safdar over tirade against Ahmadiyya community

Nazaryati support

The Jamiat Ulema-e-Islam-Nazaryati (JUI-N) has put its weight behind PTI. Addressing the press conference, JUI-N K-P Ameer Mufti Zubair Albadi announced their party support for PTI candidate in the NA-4. "We appreciate the PTI efforts for including Quranic verses in the curriculum of the province for the first time in the history of this country," he said.

PTI and JUI-N were on same page over the issues of corruption, anti-Ahmadi movement, protecting Pakistan's ideological, religious borders of this country, "that is why we are supporting their candidate in the up-coming by-election," Albadi said.

Published in The Express Tribune, October 13th, 2017.