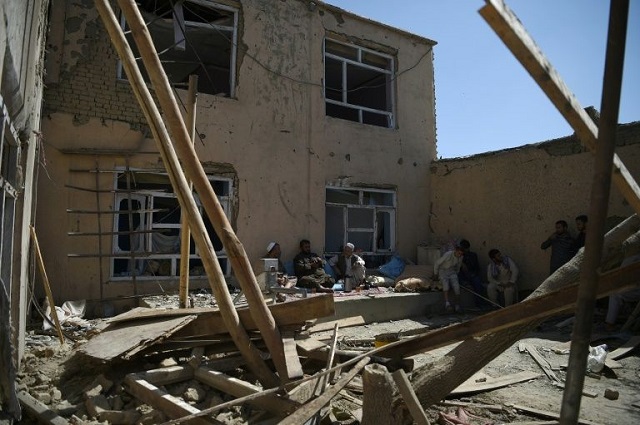 ---
KABUL: Civilian casualties caused by airstrikes in Afghanistan surged in the first nine months of this year, the United Nations said Thursday, as the US ramps up aerial attacks in the war-torn country.

Women and children accounted for more than two thirds of the victims, the UN Assistance Mission in Afghanistan said in a report, a toll increased by the Afghan Air Force carrying out its own aerial bombardments along with US Forces.

UNAMA recorded 466 civilian deaths and injuries from airstrikes between January and September, up 52 per cent from the same period last year.

International forces were responsible for 38 per cent of the victims.
The US, which is the only foreign force in Afghanistan carrying out airstrikes, dropped 751 bombs and missiles on Taliban and Islamic State militants in September, up 50 per cent from August and the highest since October 2010, according to US Air Forces Central Command data.

Afghan civilian deaths hit new high: UN

That takes the total number of bombs and missiles this year to 3,238, which is more than the previous two years combined.

The sharp increase in bombardments follows US President Donald Trump's open-ended strategy announcement in August that involves stepping up attacks on insurgents and deploying more American troops to the country, as well as more aircraft.

But civilians are paying a heavy price for the increased use of airstrikes which often miss their intended target.

Last month a US aerial attack in the Afghan capital Kabul during Defense Secretary Jim Mattis' visit to the city caused several civilian casualties when a missile malfunctioned and landed on the wrong house.

Earlier this month an "erroneous" airstrike by Afghan forces killed 10 security forces in volatile Helmand province as the country's military tried to oust Taliban fighters from a stronghold.

UNAMA said overall civilian casualties from the grinding conflict stood at 8,019 in the January-September period, down six per cent from last year, with insurgents accounting for more than 60 per cent of the civilian deaths and injuries.

The drop in casualties was largely due to pro-government forces killing and wounding fewer people -- down 19 percent from a year ago to 1,578.

"Despite the overall reduction in civilian casualties, the failure of parties to the conflict to take adequate precautions to prevent harm to civilians continued to manifest in increased women and child casualties, particularly fatalities," the report said.

Anti-government fighters continued to deliberately target civilians using tactics that amount to war crimes under international law, UNAMA said, highlighting assaults against the minority Shia population.

Afghan president urges Taliban to give up fighting, join peace process

The UN has documented civilian casualties in the war-ravaged country since 2009.

Ground fighting, suicide and complex attacks, and improvised explosive devices caused most of the casualties, with people in Kabul, Helmand, Nangarhar, Kandahar and Faryab provinces hardest hit, UNAMA said.
COMMENTS
Comments are moderated and generally will be posted if they are on-topic and not abusive.
For more information, please see our Comments FAQ