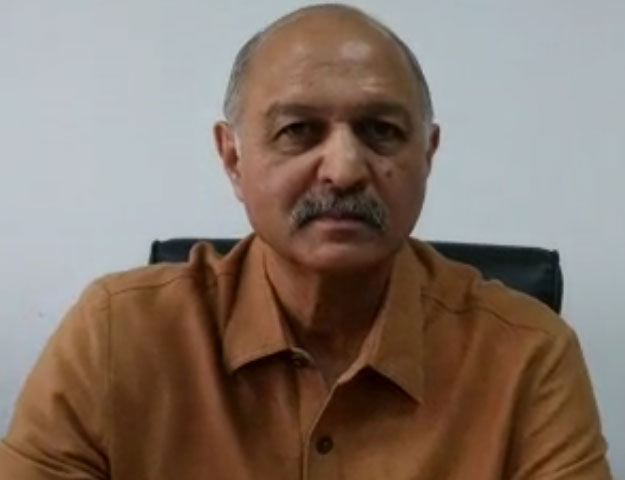 ---
KARACHI: The US strategy to rely on India as part of its new regional policy predicts that its downfall has begun, Senator Mushahid Hussain Syed has said.

"As far as this strategy is concerned, I can clearly see a downfall of the US," said the senator in a recent interview with The Express Tribune.

US President Donald Trump, in his new policy for the region unveiled in August this year, scolded Pakistan for alleged safe havens for terrorists inside the country, and hinted at India's enhanced role in Afghanistan.

However, Ambassador David Hale conveyed to National Security Adviser (NSA) Lt Gen (retd) Nasser Janjua that President Trump did not blame Pakistan for its failure in Afghanistan and that India's role was envisaged for economic development only.

High-level meetings are scheduled between the two sides as US Secretary of State Rex Tillerson and Defence Secretary James Mattis will undertake back-to-back visits to Islamabad later this month.

"This decline started with the American war in Iraq in 2003," explained Senator Mushahid. "Ever since, a gradual decline of the American empire is taking place."

"In this scenario, the US thinks that India, which is ready to play the role that of a blue eyed boy and a proxy and an ally for the Americans, can be useful in both confronting China and increasing pressure on Pakistan," he asserted.

'Dialogue, not force, key to solving world's problems'

This, according to the senator, is a dangerous policy which will fuel hostility and widen the divide in the region.

He went on to add that with its new policy, "the US is sowing the seeds of a fresh cold war... a great game in the region." Asia, he maintained, could not sustain such a dangerous strategy.

Pakistan's civil and military leadership has unanimously rejected American administration's accusations.

"We told the US that we would consult Moscow, Beijing and Tehran on the issue, making it clear that Pakistan will not come under pressure at the American convenience. Therefore, the US ultimately moved towards dialogue to resolve the issue.," said Mushahid.

Highlighting two basic flaws in the new US policy, he said Pakistan made it clear that it would not accept being made a scapegoat for the American ineligibility and failures in Afghanistan.

He added that the US move to enter Iraq, that too on illegitimate grounds, while its forces were still engaged in Afghanistan led to the failure on both the fronts.

Secondly, US reliance and intentions to pursue its new policy through India and make the latter a regional 'policeman' was also not acceptable for Pakistan, he added.

"We did not succumb to the US pressure even 50 years ago when we befriended China," the Pakistan Muslim League-Quaid leader said. "And then 40 years ago, when we began the nuclear programme, the US placed sanctions and pressurised us."

Pakistan chalks out plan to deal with possible US curbs

Pakistan was pressurised once again with the initiation of Iran-Pakistan gas pipeline project, he said, adding, "Pakistan did not succumb to the pressure, but India did."

"We pursue whatever is best in our national interests," the senator said and added, "Now the US is no more the sole super power. The world is changing and new powers are emerging, so there is no more that sort of the US influence."

Asked if Pakistan would be able to sustain a possible increase in US pressure, Mushahid said, "Pakistani people are well disciplined, come what may!"

"If the US wants an honourable exit from Afghanistan, [it has to realise] that Pakistan is not a part of the problem, but part of the solution, while India is part of the problem," he concluded.

The conflict that began in October 2001 as a hunt for the 9/11 attackers has turned into a vexed effort to keep Afghanistan's divided and corruption-hindered democracy alive amid a brutal Taliban insurgency.

While the US has more than 8,000 troops in Afghanistan, the US president has ordered deployment of more troops, backtracking from his promise to swiftly end America's longest-ever war.


COMMENTS (5)
Comments are moderated and generally will be posted if they are on-topic and not abusive.
For more information, please see our Comments FAQ